Benefits and usage of Argan Oil
Show Menu
This naturally occurring plant oil is derived from the kernels of the fruit of the argan tree.
Native to Morocco, argan oil is now used across the globe for a variety of cosmetic and medicinal applications, backed with medical research.
As argan oil has become increasingly popular, it's easier than ever to add it to your health and beauty routine.
It is widely available in most major grocery stores, drug stores and online retailers.
Argan Oil Contains Essential Nutrients
Argan oil is primarily obtained fatty acids and a variety of phenolic compounds.
The majority of the fat content of argan oil comes from oleic and linoleic acid.
Approximately 29-36% of the fatty acid content of argan oil comes from linoleic acid, or omega-6, making it a good source of this essential nutrient.
Oleic acid, though not essential, makes up 43-49% of the fatty acid composition of argan oil and is also a very healthy fat. Found in olive oil as well, oleic acid is renowned for its positive impact on heart health.
Additionally, argan oil is a rich source of vitamin E, which is required for healthy skin, hair and eyes. This vitamin also has powerful antioxidant properties. Fully nourishing and protecting your damaged hair and skin.
Apivita Rescue Nourish & Repair Hair Oil (Argan & Olive)
$45.00 /100ml
A deeply nourishing & repairing hair oil with precious herbal oils.Contains argan, olive, almond, sunflower & oat oils to deeply nourish & repair damage. Blended with Plukenetia Volubilis seed oil to prevent breakage & split ends while protecting hair from heat styling.
Infused with organic geranium, bergamot, lavender & sandalwood essential oils & beeswax absolute to provides a relaxing & revitalizing effect.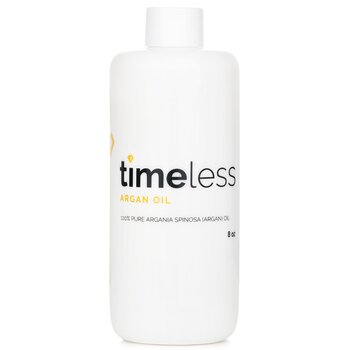 Timeless Skin Care Pure Argan Oil
$53.50 /240ml
An effective repairing oil for skin, hair & nails, contains 100% natural Argan Oil derived from the kernel of the Argan tree nut in Morocco.
This product is packed with omega fatty acids & Vitamin E for repairing properties, nourishes dry scalp, dull hair, weak nails & dehydrated, tight feeling skin.Great for dry, chapped lips & the whole body.
Argan Oil Has Antioxidant and Anti-Inflammatory Properties
The various phenolic compounds in argan oil are likely responsible for most of its antioxidant and anti-inflammatory capacities.
Argan oil is rich in vitamin E, or tocopherol, a fat-soluble vitamin that serves as a potent antioxidant to reduce the damaging effects of free radicals.
Other compounds present in argan oil, such as CoQ10, melatonin and plant sterols, also play a role in its scientifically proven antioxidant capacity.
A recent study revealed a significant reduction in inflammatory markers in mice fed argan oil prior to exposure to a highly inflammatory liver toxin, compared to the control group .
Additionally, some research indicates that argan oil can also be applied directly to your skin to reduce inflammation caused by injuries or infections.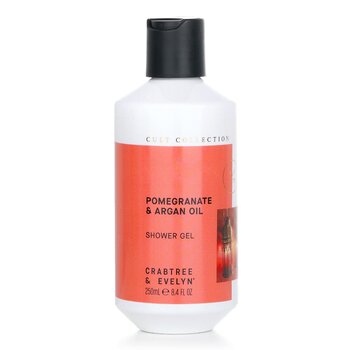 Crabtree & Evelyn Cult Collection Pomegranate & Argan Oil Shower Gel
$27.00 /250ml
Formulated with antioxidant-packed and hydrating argan oil & pomegranate fruit extract. This shower gel works quickly into a rich lather to gently cleanse the body.Releases a heady fragrance inspired by travels to Morocco to ease your stress.
Leaves skin soft, soothed & nourished, and mind relaxed and calm.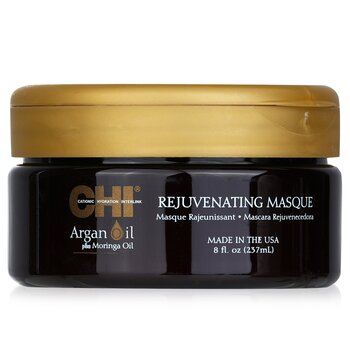 CHI Argan Oil Plus Moringa Oil Rejuvenating Masque
$23.50 /237ml
An intensive nutritious & rejuvenating hair mask, which helps deeply revitalize & dramatically improve hair's texture.
\
Contains Argan Oil and Moringa Oil blend, rich in Antioxidant, Vitamin E & omega fatty acids. Penetrates quickly to strengthen & hydrate hair, and protects hair against damage from thermal styling & UV rays for the day.
Hair appears softer, smoother, shinier, bouncier, more manageable & healthier looking.
Useful Anti-aging Ingredients
Argan oil has quickly become a popular ingredient for many skin care products.
Some research suggests that argan oil may help slow the aging process by reducing inflammation and oxidative stress.
It may also support repair and maintenance of healthy skin thus reducing visual signs of aging.
Some human studies show argan oil effective for increasing skin elasticity and hydration in postmenopausal women.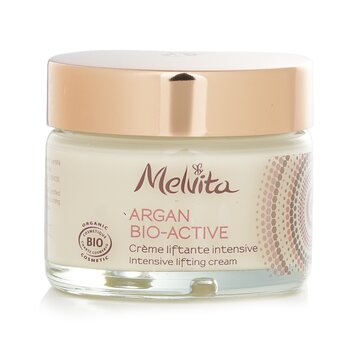 Melvita Argan Bio-Active Intensive Lifting Cream
/ 50ml
An intensive lifting facial cream, with rich yet lightweight texture feels like a second skin.
Contains microbiotic argan oil to nourish & replenish skin while retaining moisture, visibly diminishes the appearance of wrinkles & fine lines.Enriched with argan pulp for firming & plumping benefits.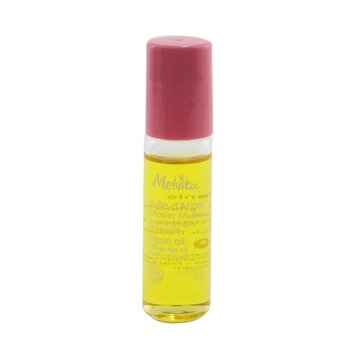 Melvita Organic Argan & Rose Hip Oil Beauty Oil Touch
/ 10ml
A natural, organic repairing facial oil for mature skin, with roll-on design easily targets selected areas. Contains argan oil & rose hip oil for regenerative & revitalizing benefits, for strong anti-aging and anti-wrinkle effect. Skin appears smoother, nourished & more youthful-looking after use.
Moisturize Skin
The oleic and linoleic acids that make up the majority of argan oil's fat content are vital nutrients for maintaining healthy skin and hair .Argan oil is often directly applied to skin for moisturizing.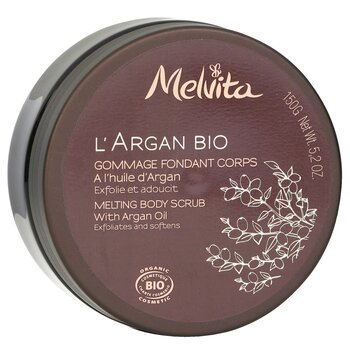 Melvita L'Argan Bio Melting Body Scrub With Argan Oil
$33.50 / 150g
An organic, natural & nourishing body scrub, with soft, sensorial texture helps gently remove dead skin & impurities.
Contains nourishing argan oil, argan shell powder & shea butter for gentle exfoliating. Infused with a delicious delicate scent to enhance the mood. Ideal for any skin type, including dry & dehydrated.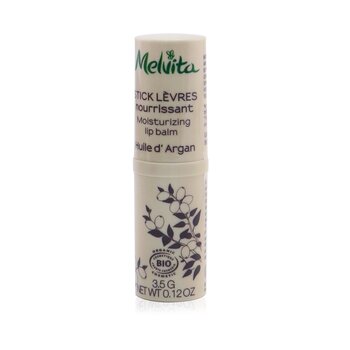 Melvita Huile D'Argan (Argan Oil) Moisturizing Lip Balm
/ 3.5g
A moisturizing, nourishing & protective lip balm, formulated with 100% natural ingredients & 40% organic ingredients. Enriched with argan oil for nourishing, repairing & softening properties. Leaves lips moist & protected
May Treat Some Skin Conditions and Promote Wound Healing
Argan oil has been a popular home remedy for treating inflammatory skin conditions for decades - especially in North Africa, where argan trees originate.
Current research indicates that argan oil does contain several antioxidant and anti-inflammatory compounds, which may be why it seems to treat skin tissue.
Argan oil may also accelerate the wound healing process.
One animal study revealed a significant increase in wound healing in rats given argan oil on their second-degree burns twice daily for 14 days.
That said, human research is needed.
Please notice that the price above are all special price from Strawberrynet. To shop for more product with discounted price, click here.