Show Menu

Last Minute Christmas Gifts
For Her | For Him | For BFF
We know it happens every year. You've run out of time to shop, and there's still so much to buy. Never fear! For your last-minute shopping convenience, we've gathered our top buys for the season. These oh-so-pretty pieces look stunning and will be a sure-fire hit with your giftee.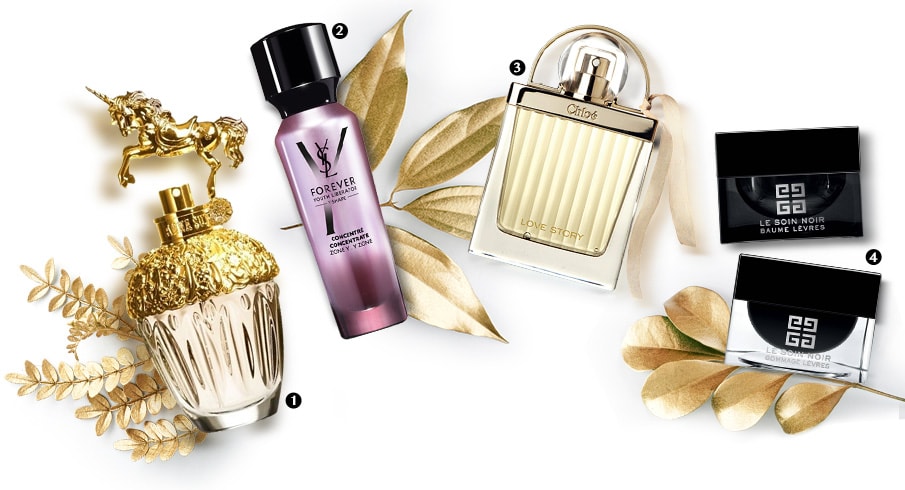 Anna Sui Fantasia 50ml ($64.00)
You can't go wrong with a statement perfume that comes in a golden chestnut bottle topped with a gloriously eye-catching unicorn. It smells like autumn cypress and sweet raspberries.

Chloe Love Story 50ml ($90.50)
Send her your love with this understated white floral concoction. It lifts off the skin and smells absolutely regal.

YSL Forever Youth Liberator Y Shape Concentrate 30ml
If she prefers luxury skincare, give her this vital serum to bring back skin's elasticity. Its Glycanactif Y TM complex works wonders.

Givenchy Le Soin Noir Rituel Levres
This premium bedtime ritual includes two tubs - a lip exfoliator and balm that will leave lips ready for action.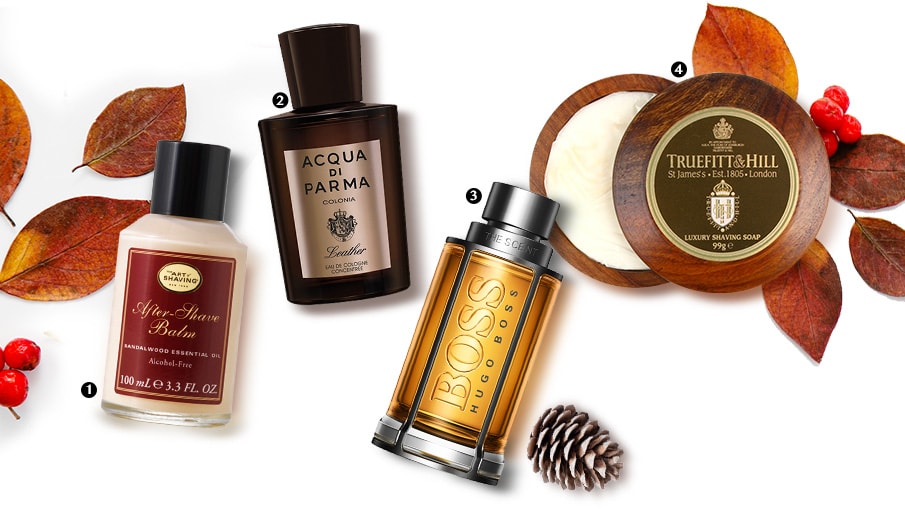 The Art Of Shaving After Shave Balm - Sandalwood 100ml ($48.00)
Made with 100% pure essential oils, this balm will leave skin supply and hydrated even during the driest winter months.

Hugo Boss The Scent EDT 100ml ($74.00)
This unique scent combines maninka fruit (an aphrodisiac from South Africa that smells like strawberries dipped in chocolate!) and ginger for a zing of spice.

Acqua Di Parma Colonia Oud Eau De Cologne Concentree 100ml
The man who smells good basically wins at life. This oud and leather fragrance evokes clean wood shavings and expensive leather seats, and it'll last even through a hot shower.

Truefitt & Hill Luxury Shaving Soap 99g
Packaged in a hand-turned wooden bowl for a rustic touch, this delivers a thick, nourishing foam that is perfect for a smoother, closer shave.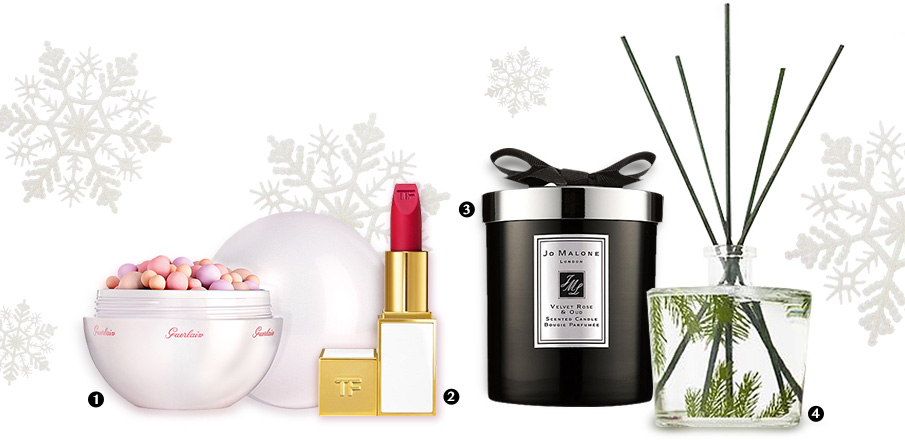 Guerlain Meteorites Happy Glow Pearls 30g ($75.00)
This is the no-hassle highlighter for gals who just want a subtle glow. With its light-revealing pearls, this feather-light powder will impart the subtlest of shimmers.

Jo Malone Velvet Rose & Oud Scented Candle 200g
Luxury candles like this one burn for up to forty-five hours and will make your room smell like an opulent art-deco apartment straight out of Hollywood.

Tom Ford Ultra Rich Lip Color in #Aphrodite
For the gal who loves a bold pink lip, you can't go wrong with this magenta lippie. This shade screams 'gal who knows how to go after what she wants.

Thymes Fragrance Diffuser (Pine Needle) - Frasier Fir 230ml
The perfect accompaniment to the holiday season. This diffuser carries the crisp scent of Siberian fir needles and will conjure up snowy walks through the Russian forest.