Show Menu

4 RUNWAY-INSPIRED
Makeup Trends For 2018

BRIGHT LIPS THAT SLAY
Sharpen up your pout with a juicy pop of colour! The runway shows of 2018 have all featured model flaunting colorful lips in all textures. Create your personalized version with these lust-worthy lip products.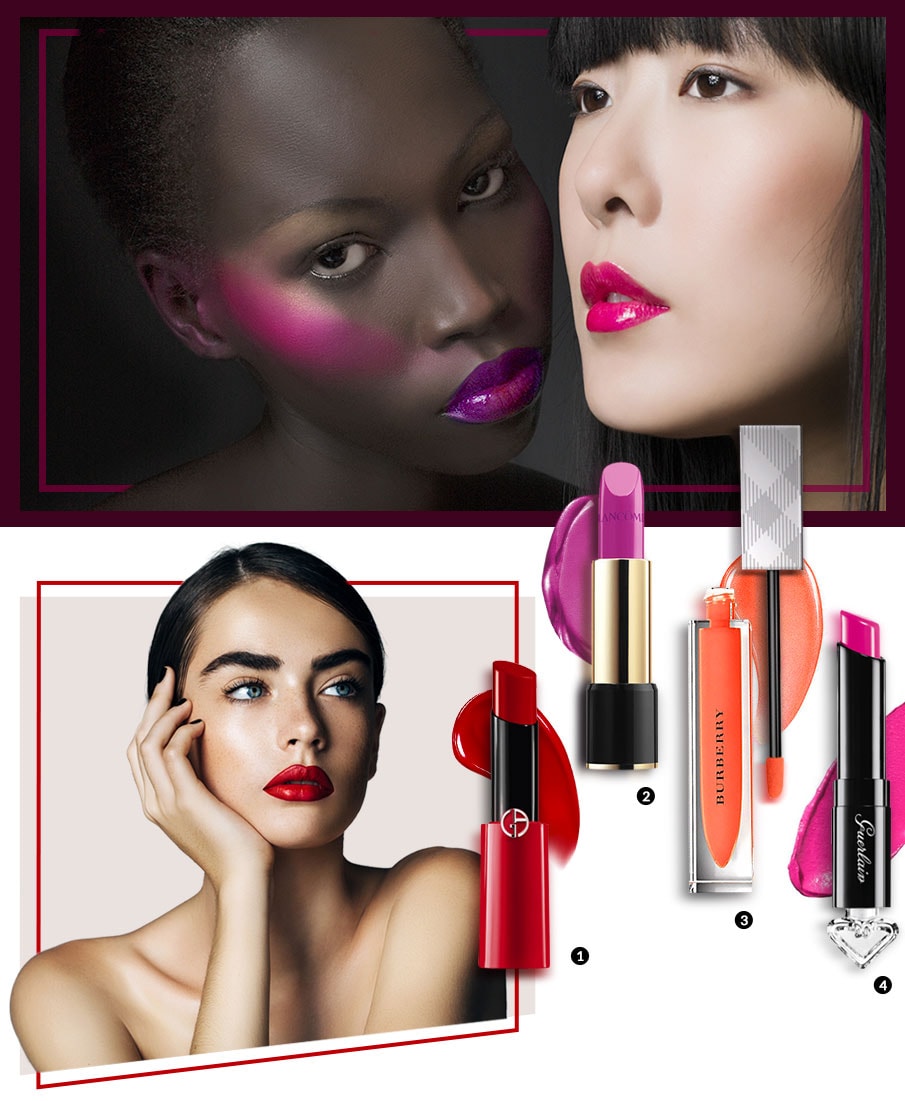 How to do it: First, prep your lips with a gentle sugar scrub - creating a smooth, flake-free canvas is half the battle won. Second, don't skip the lip liner! A good liner will make sure the edges of your bright lip color stays crisp, and more important, doesn't run at the first sign of oil. Third, lay off the heavy eye shadow once you're done. You want people to notice your lips, rather than your smoky eyes, right?

Giorgio Armani Exstacy Shine Excess Shine & Care Lipcolor - #400 Four Hundred

Lancome L'Absolu Rouge Hydrating Shaping Lipcolor - #325 Impertinente

Burberry Burberry Kisses Wet Shine Moisturising Gloss - #77 Tangerine

Guerlain La Petite Robe Noire Deliciously Shiny Lip Colour - #073 Orchid Beanie
NEGATIVE SPACE EYELINER
There's no occasion that doesn't call for defined, boss-looking eyes. This year, starlets have taken that concept and elevated it to create the negative space eyeliner, which is like your normal catseye, but on steroids.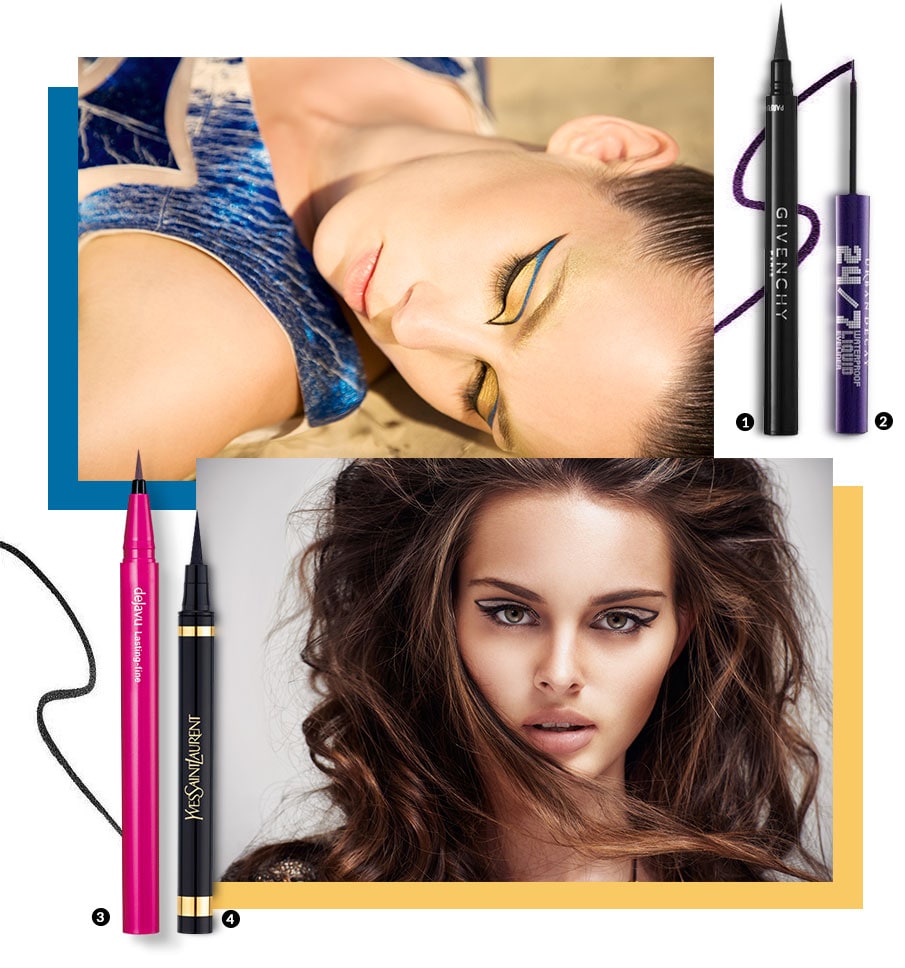 How to do it: Just line your eyes are usual, adding an exaggerated cat's flick at the ends. Then add an additional, separate line that starts anywhere above between your eyelid and eyebrow. Following the curve of your eye area, draw it outwards towards your ears so that it eventually meets up with flicked-up end of your first line.

Givenchy Liner Couture Precision Felt Tip Eyeliner - # Black

Urban Decay 24/7 Waterproof Liquid Eyeliner - # Retrograde

Dejavu Lasting Fine Brush Liquid Eyeliner - # Glossy Black

Yves Saint Laurent Eyeliner Effet Faux Cils Shocking (Bold Felt Tip Eyeliner Pen) - # Black ( Lei151.50)
MIRROR-SHINE HIGHLIGHTS
This one is a carry-over from 2017, but everyone loves it so much, it's still going strong. And no wonder, because highlights are the difference between selfies that make you look like a Photoshopped celeb, and selfies that look like you're still carrying a Nokia from 2008.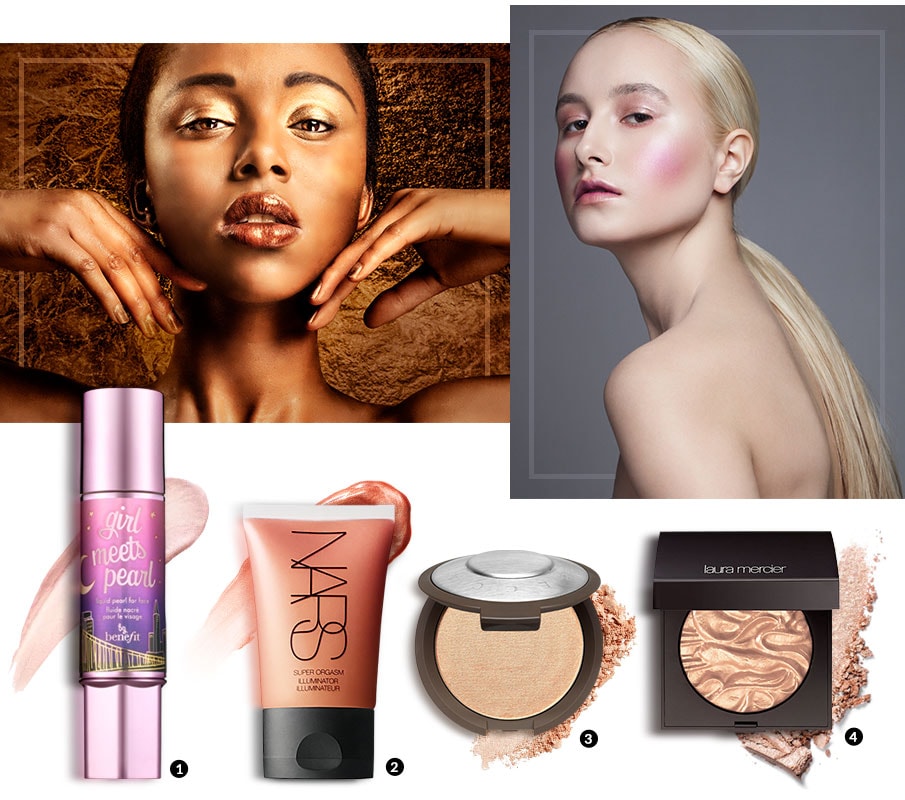 How to do it: Using a fluffy brush of your choice, dust highlighter from under the brow bone to the corner of the eyelid in a curved C-shape. Then tap it on the tops of the cheek bones, above where your blush would normally go.
If you're going for a pearlescent unicorn look, pick a white or silver-based highlighter like Benefit's Girl Meets Pearl. Want a sun-kissed golden glow? Choose a pink or yellow-based highlighter like Becca's Champagne highlighter, which flatters every skintone. Need a soft-focus glow like you've been lit from within? Match the highlighter to your skin tone like you would a foundation. Try Laura Mercier's Face Illuminator.

Benefit Girl Meets Pearl (Liquid Pearl Luminizer For Face)

NARS Illuminator - #Super Orgasm

Becca Shimmering Skin Perfector Pressed Powder - # Champagne Pop

Laura Mercier Face Illuminator - # Indiscretion ( Lei193.50)
GLITTER ACCENTS
The old rules said glitter eye shadow is only for special occasions, but we know better. Sparkly, light-catching flecks are all the rage this year, and they go with just about every look. So don't save these for a big date - now's your chance to whip them out for everything from your morning jog to Friday night drinks with colleagues.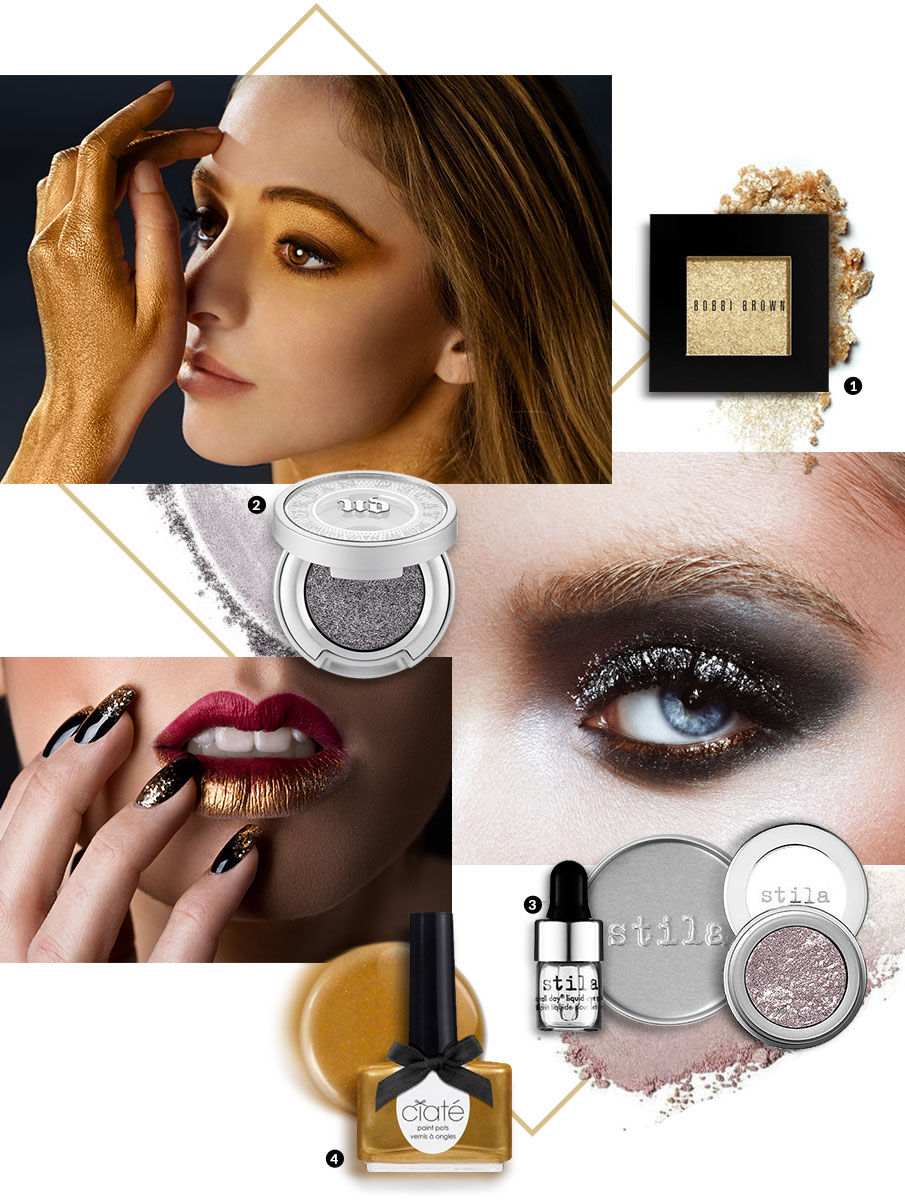 How to do it: Dab these brilliant shadows onto your lids with a finger for a wash of gorgeous color, then go in with a brush on your lash line to intensify the effect. These shades are flattering on every skin tone, and will make you look like you're a star-touched goddess. The best part? They're tiny and can be carried in your pocket for emergency touchups. Also, if you match your nails to your eyes, you'll look super together even if the rest of your outfit is not as sharp.

Bobbi Brown Sparkle Eye Shadow - # Sunlight

Urban Decay Moondust Eyeshadow - # Moonspoon

Stila Magnificent Metals Foil Finish Eye Shadow With Mini Stay All Day Liquid Eye Primer - # Metallic Lavender

Ciate Nail Polish -# Ladylike Luxe