Show Menu

Best Makeup Buys 2017
Top 3 Bestselling Mascaras, Foundations, Lipsticks & more!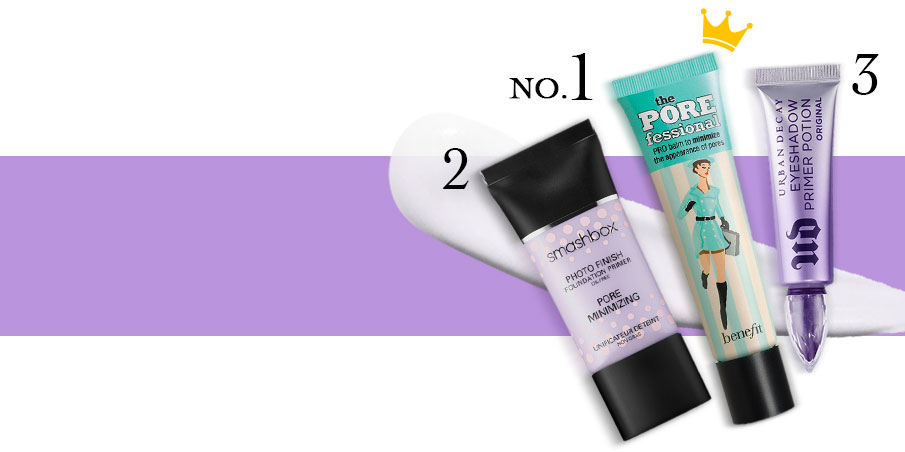 Primer

Benefit The Porefessional Pro Balm to Minimize the Appearance of Pores ( Lei155.00)
Shrink pores to nothing and get the refined skin you've always wanted with this magical, satiny balm. Your foundation will stay glued to your skin with this to hold it in place.
WHAT PEOPLE SAY:
Really a good base. It makes my skin look so smooth. I think I look prettier after using it.
- By Cordelia Leong

Smashbox Photo Finish Foundation Primer Pore Minimizing ( Lei169.00)
This water-resistant formula controls oil for up to 8 hours while making sure your complexion stays soft, matte, and smooth.
WHAT MAKES IT FAMOUS:
With so many HD cameras on the prowl, smooth skin is a must. Fortunately, this product was made to deliver a celebrity-worthy photo finish. Use it to even out bumps instantly and make big pores a thing of the past.

Urban Decay Eyeshadow Primer Potion - Original
A must for any party look, this primer keeps eye shadows from creasing and gives it mega staying power. Dramatic eyes should be both seductive and long-lasting.
WHAT PEOPLE SAY:
This primer forms a great smooth base for eyeshadow and makes it last all day. Love it!
- By Katherine Paine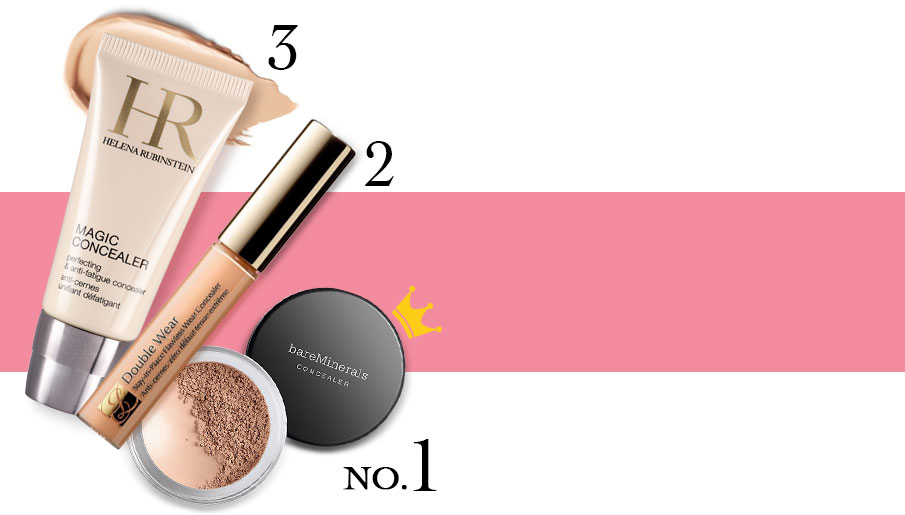 Concealer

BareMinerals i.d. BareMinerals Multi Tasking Minerals SPF20 (Concealer or Eyeshadow Base) - Summer Bisque ( Lei82.50)
Don't underestimate the power of powder. Even a tiny amount of this powder will conceal redness, hide imperfections, and create a smooth canvas for makeup.
WHAT PEOPLE SAY:
I have not realized how small it is. I like the color and the texture and the compact size is perfect for a touch up on the go. It does not have a brush or an applicator with it, so will need to buy one.
─ By Tatiana Rosen

Estee Lauder Double Wear Stay In Place Flawless Wear Concealer SPF 10 - # 02 Light Medium
This weightless, oil-free formula not only offers buildable coverage that won't slip or melt away, it's also transfer and humidity-resistant. So you can wear it on the hottest day without fear.
WHAT PEOPLE SAY:
I have been a pro make up artist for 20 years now and I personally use this one, after I apply some eye cream first. I use a sponge to apply it and just love how fast it sets. It is not as creasy as others in its price range. With a light dust of setting powder it really does stay on many hours!
─ By Victoria Studer

Helena Rubinstein Magic Concealer - 02 Medium
Fake a good night's sleep with this expert under eye concealer, which will erase and brighten those dark panda circles you're currently sporting.
WHAT PEOPLE SAY:
Heavy coverage, but looks like skin. I've been using it for years. Moisturizing.
─ By Corina Bran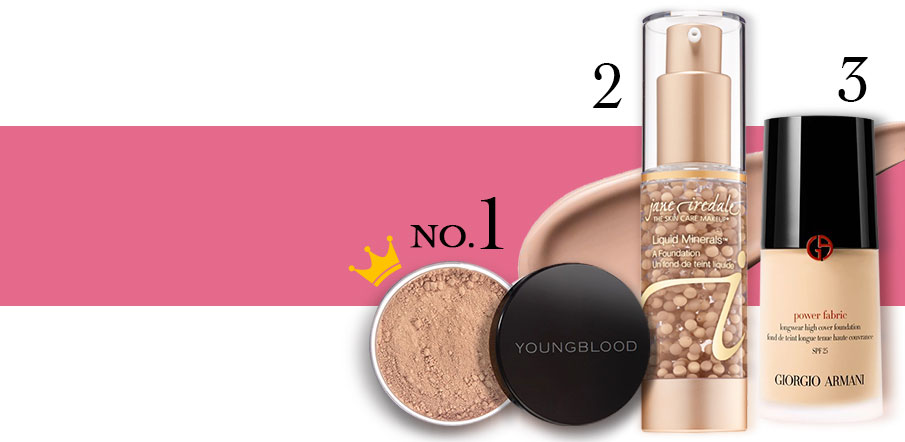 Foundation

Youngblood Natural Loose Mineral Foundation ( Lei155.00)
This highly-pigmented powder is finely-milled and super gentle on skin - perfect for those looking for sheer coverage in a fragrance-free package. Not only does powder foundation look super natural on skin, but it will even help absorb and control excess oil
WHAT PEOPLE SAY:
Love this powder as it is rrally luminous. I have been using it for a couple of years now. The colour choices are also great, they're really natural.
─ By Stephanie Kelly

Jane Iredale Liquid Mineral A Foundation
Stuffed full of skin-healthy stuff like glycerine and aloe vera, this all-natural mineral foundation has garnered rave reviews for its natural, light-reflecting finish. It even minimizes pores for a smoother skin tone. Bet you didn't know natural foundations could do all that!
WHAT PEOPLE SAY:
I am Asian and I use Amber. My skin is getting better with this product because it is mixing up with serum. Defiantly worth to try!
─ By Fufu

Giorgio Armani Power Fabric Longwear High Cover Foundation SPF 25
Professional-quality foundations are worth their weight in gold, and this one is among the best. With SPF for sun protection and a matte finish that will last all day, it's our go-to for flawless skin.
WHAT PEOPLE SAY:
Giorgio Armani's Lasting Silk Foundation in #6.5 used to be my HG foundation until Power Fabric came along. The coverage is at best medium with 2-3pumps but the finishing and staying power is good. I only need to blot my face twice for over 10hours of wear.
─ By sc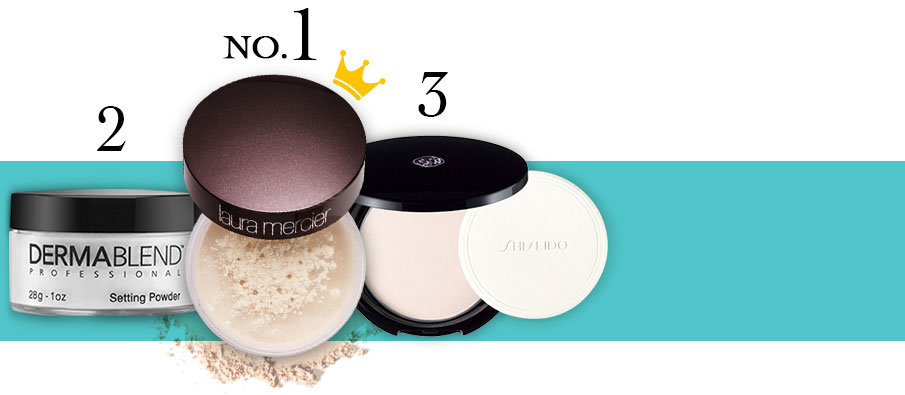 Powder

Laura Mercier Loose Setting Powder - Translucent
The Holy Grail of setting powders, this product is made with French cashmere talc. Once brushed on, it instantly softens lines, hides imperfections, and makes pores look invisible. Even if you put nothing else on, your complexion will look camera-ready.
WHAT PEOPLE SAY:
Best product for setting EVER! I have extremely dry skin, and psoriasis flare ups. This is the only setting powder along with Nars that doesn't chalk up for me.
─ By Uysal T

Dermablend Loose Setting Powder (Smudge Resistant, Long Wearability) - Original ( Lei128.00)
Set your look with this powder and your look will stay un-smudgeable ALL day. You can even put it on discolorations and hyperpigmented skin to "blur" it, rendering it instantly less noticeable.
WHAT PEOPLE SAY:
I'm using it for years now and completely satisfied with it. I have an oily, acne-prone skin and it sets my foundation well. It even blurs my pores.
─ By Eve

Shiseido Translucent Pressed Powder
This pocket-sized compact makes touching up on-the-go a snap. Tap it on with the dedicated sponge inside and give yourself a light-filtering veil that will make excess shine disappear in seconds. Best of all - no loose powder flying everywhere!
WHAT PEOPLE SAY:
This is the most beautiful setting powder I've ever used, and I've used a lot! It is very finely milled and very soft. Sets makeup flawlessly.
─ By LidijaM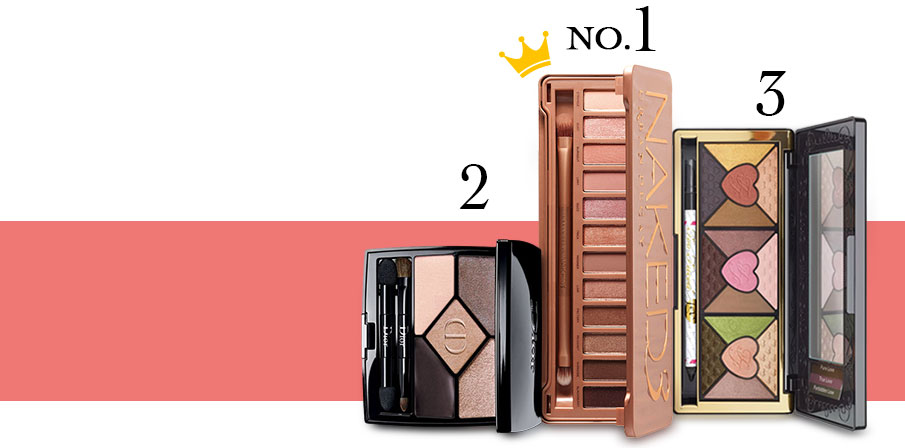 Eye
Shadow

Urban Decay Naked 3 Eyeshadow Palette: 12x Eyeshadow, 1x Doubled Ended Shadow/Blending Brush ( Lei286.50)
Boasting 12 exquisitely blendable shades, this rose-gold palette is the jewel of the Naked collection. Plus, with a duo-ended blending brush included, it's super convenient to use on the go. If you only buy one eye shadow palette this year, make it this one.
WHAT MAKES IT FAMOUS:
Urban Decay makes some of the most coveted eye shadow palettes in the world ─ for good reason! Buttery-smooth textures and rich colour payoff make this the favoured shadow palette of professional makeup artists everywhere.

Christian Dior 5 Color Designer All In One Professional Eye Palette - Amber Design
Sculpt a cool and confident eye using the 5 complementary shades included in this compact. The warm brown and neutral tones make it perfect for understated, everyday look. It's Your Eyes But Better!
WHAT PEOPLE SAY:
Everything in one place - primer, color, highlighter, liner with applicators AND detailed instructions on how to achieve the proper look. Colors are good and accurate as depicted. Worth buying.
─ By Carol Auricchio

Too Faced Love Palette (15x Eye Shadows, 1x Eyeliner)
The definitive palette for eye shadow lovers, this set contains shimmer, pearl, and matte shades for both daytime chic and evening glam.
WHAT PEOPLE SAY:
I like it. Good colours...
─ By Anonymous

Mascara

Clinique Chubby Lash Fattening Mascara - #01 Jumbo Jet ( Lei82.50)
The fat applicator is all you need to get voluptuous volume. The lightweight formula lets you build up to three coats without weighing lashes down. Suitable for those who need to go from zero to glam in 30 seconds.
WHAT PEOPLE SAY:
This product made my lashes really stand out like I had false lashes on so great for that really glamorous occasion. Also watch for when its on sale as its great savings on a top line product.
─ By ngaire sandel

Dejavu Fiberwig Ultra Long Mascara - Pure Black ( Lei72.50)
This Japanese bestseller never goes out of style. The formula is famous for its ultra-thin fibers that attach to your lashes (just like extensions!), and it absolutely will not budge or smudge until you remove it with warm water.
WHAT PEOPLE SAY:
With most mascaras by the end of the day I am guaranteed to have panda eyes. I swear by this mascara and use nothing else. It does not smudge at all and is also great for lengthening lashes. Easy removal with warm water. Awesome.
─ By Cherry

Benefit Roller Lash Super Curling & Lifting Mascara - Black
For a curl that's out of this world, go straight to the master. This mascara lifts and separates each lash for a wide-eyed finish that will make you look positively doll-like.
WHAT MAKES IT FAMOUS:
The adorable retro packaging, the easy-off formula, and the non-sticky coating it delivers all make this a sure-fire winner. Fans swear by how easy it is to use, even for mascara newbies. The brush is even fine enough to grab the lashes at the corners of your eyes, for an even more alert look.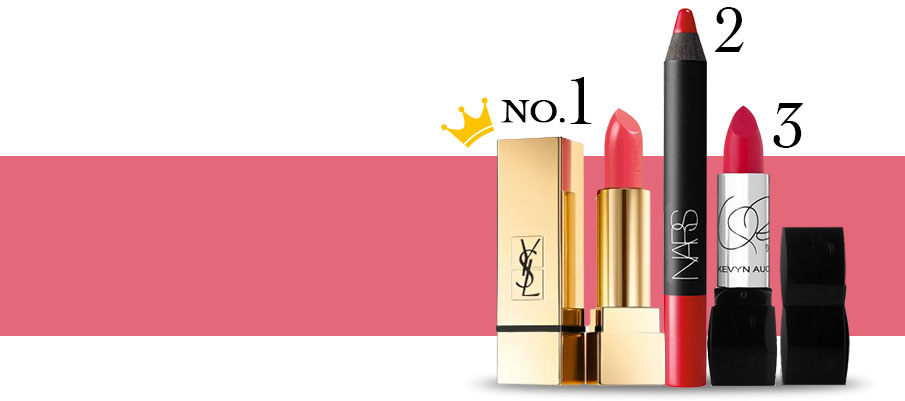 Lipstick

Yves Saint LaurentRouge Pur Couture - #52 Rosy Coral/Rouge Rose ( Lei167.00)
This gorgeous golden lipstick comes in a shining case that drips with luxury. The most popular shade, Rosy Coral, is a gorgeous shade of orange-pink that flatters every skin tone. Wear it anytime you want a splash of warm summery colour.
WHAT PEOPLE SAY:
I've bought this over and over again. It's a real stunning lipstick,creamy,strong colour,luxurious,and was sold out all over the world last year.So if you are lucky enough to find it on Strawberry net,buy two at a time. Even my blonde granddaughter loves it and she doesn't normally wear lipstick. I like most of Yves St Laurant items but lipsticks are the best you can get for quality.
─ By Anne Emery

NARS Velvet Matte Lip Pencil - Dragon Girl
This giant pencil makes application a cinch! Enriched with Vitamin E, it'll moisturize your lips gently while delivering vibrant colour. Dragon Girl is a bold, in-your-face, firetruck red that pulls no punches.
WHAT PEOPLE SAY:
very nice one and it doesn't dry your lips out, stays on for so long
─ By Divina Jamon

Kevyn Aucoin The Lipstick - # Lotus
The ultimate bright berry red, guaranteed to make a statement. Put it on before your next big night out to ensure that you put your best foot forward.
WHAT PEOPLE SAY:
I love this lipstick, it's sheer, smells good and the shade is great both for summer with a tan and for winter with pale skin. I got it in #Lotus
─ By Chicca