Top-Rated Makeup for a Perfect Complexion
Show Menu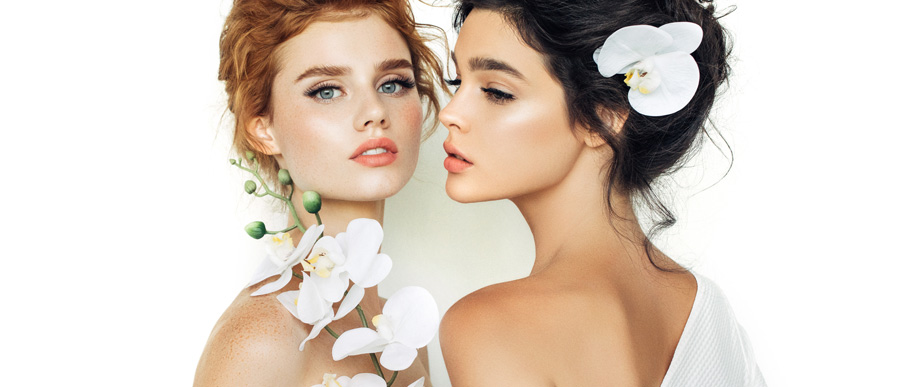 4 Secret Tips to Get Flawless

Top-Rated Makeup for a Perfect Complexion
You know those YouTube tutorials showing you how to apply 12 different products to get that perfect, glowing complexion? We're here to tell you it doesn't have to be that complicated! Check out our guide to get your flawless face in 4 steps (or less!).
TIP 1: CONCEAL IMPERFECTIONS
Got a pesky breakout? Dark circles? Or maybe just some unwanted redness? Start with concealer! Remember: for the under-eye area, choose an orange-based concealer (to cancel out the blue undertones). For everything else, choose one that is one shade lighter than your foundation. We like the following four hits for four very different reasons.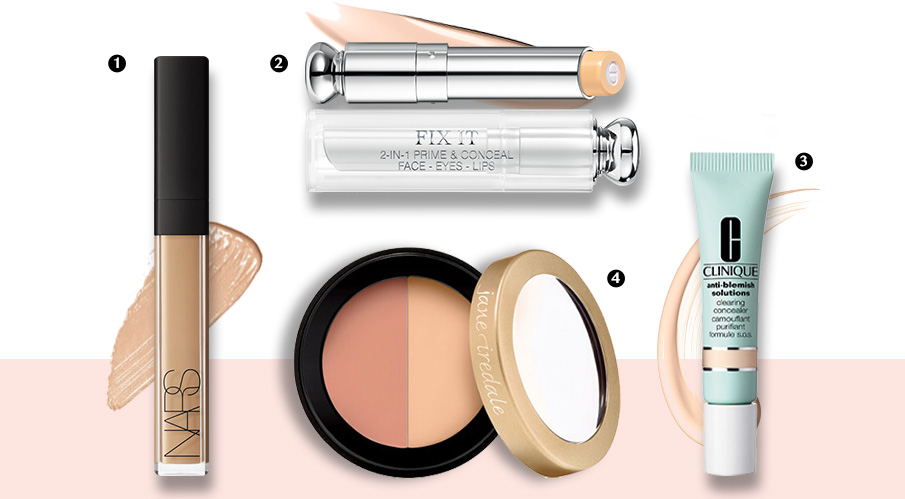 NARS Radiant Creamy Concealer :
The all-time favourite. Never creases, never fades, never fails you. We grab it for all our cover-up emergencies.

Christian Dior Fix It Backstage Pros Concealer :
Smooths out fine lines and unevenness like a pro. And it's even better as a lip primer so you can enhance the colour of your lipstick.

Clinique Anti Blemish Solutions Clearing Concealer :
Like a bulletproof vest for your blemishes, this one hides everything while providing medicated care.

Jane Iredale Circle Delete Under Eye Concealer ( Lei113.50):
Your instant solution to dark circles and puffiness. One side conditions the eye area with vitamin K and cooling extracts, with the other side erases brown spots and fine blood vessels.
TIP 2: EVEN SKINTONE
A great foundation not only smooths out your skin, it also adds a subtle glow and, in some cases, SPF so you can stay protected in the sun. The following are the newest offerings from the heavyweights in foundation - these brands offer tons of shades and ground-breaking textures that you must try.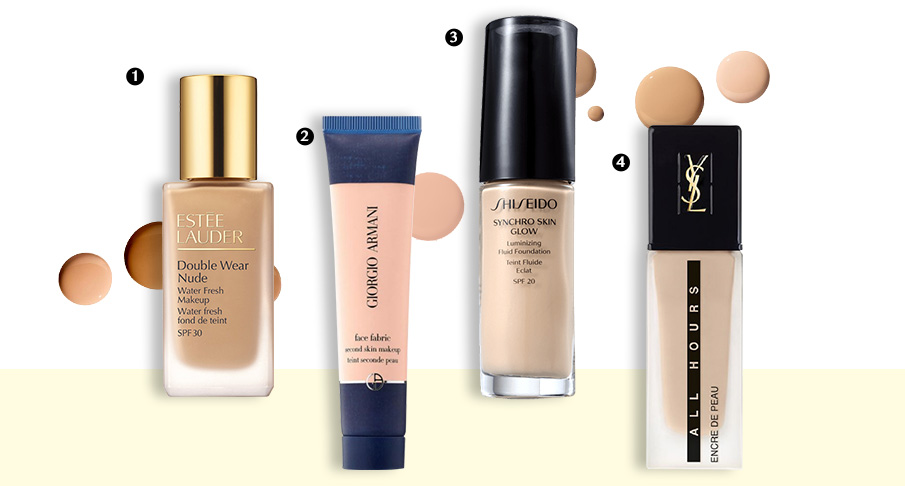 Estee Lauder Double Wear Nude Water Fresh Makeup SPF 30 ( Lei225.00):
This new addition to the popular Double Wear family feels like water in texture but has the staying power of a cream. With its high SPF rating and buildable coverage, it's a contender for our new Holy Grail foundation.

Giorgio Armani Face Fabric Second Skin Lightweight Foundation :
So light you won't feel it! With its revolutionary mousse-to-powder texture, this one basically turns to air on your skin. For sheer coverage that re-texturizes skin for a smooth yet natural look.

Shiseido Synchro Skin Glow Luminizing Fluid Foundation SPF 20 ( Lei198.00):
Bring on the glow. This new serum-like foundation leaves your skin luminous, while providing that #nofilter coverage hydration and SPF for all-round environment protection.

Yves Saint Laurent All Hours Foundation SPF 20 ( Lei248.00):
Take longwear to the next level. This new line is transfer-proof and humidity-resistant, so you can enjoy a fresh look that lasts.
TIP 3: SET WITH POWDER
Everyone knows a bit of powder goes a long way. But sadly, not all powders are made equal. Here are our top picks, based on how long they last, how well they hold up, and how airbrushed it makes skin look (Hint: So good, you'll look like you've been Photoshopped).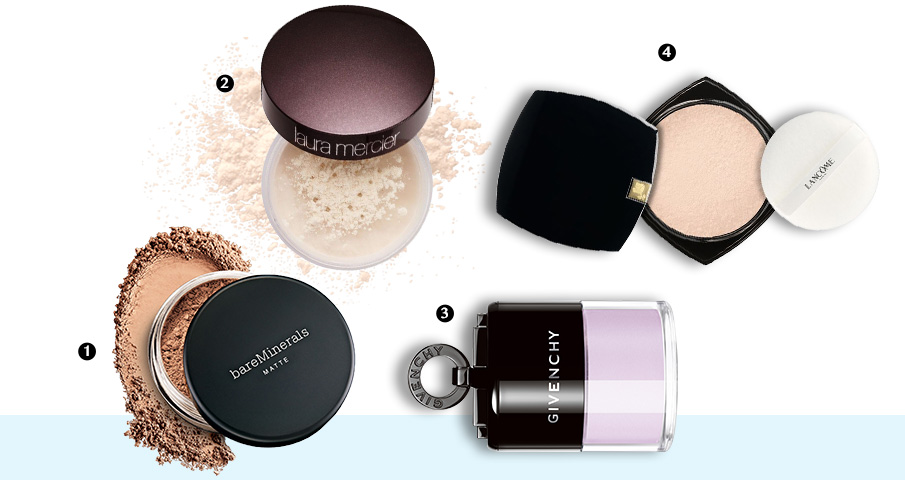 Bareminerals Original SPF25 Mineral Veil ( Lei109.50):
Think mineral makeup can't perform like your usual powder? Nothing beats this melt-in powder for its smoothness and lightness.

Laura Mercier Loose Setting Powder ( Lei206.00):
Made from the finest cashmere talc, this silky powder softens lines and blurs imperfections for an Instagram-worthy look.

Givenchy Prisme Libre Travel Mat Finish & Enhanced Radiance Loose Powder ( Lei177.00):
Need some extra tone correction? This one combines four correcting shades into one lavender shade that reverses sallowness and makes skin extra luminous. Comes with a precise buffing applicator for easy touch-ups on the go.

Lancome Poudre Majeur Excellence Micro Aerated Loose Powder :
Never cakes or looks thick. This finely-milled powder veils the skin in a gentle second-skin feeling.
TIP 4: ADD DIMENSION
Last but not least, don't forget to bring out the contours of your face. This is the step that those of us #toolazytomakeup might skip, but it's actually easier than you think. A great bronzer applied in the right place will bring out your cheekbones, and a soft dusting of highlighter will give you an ethereal faery glow.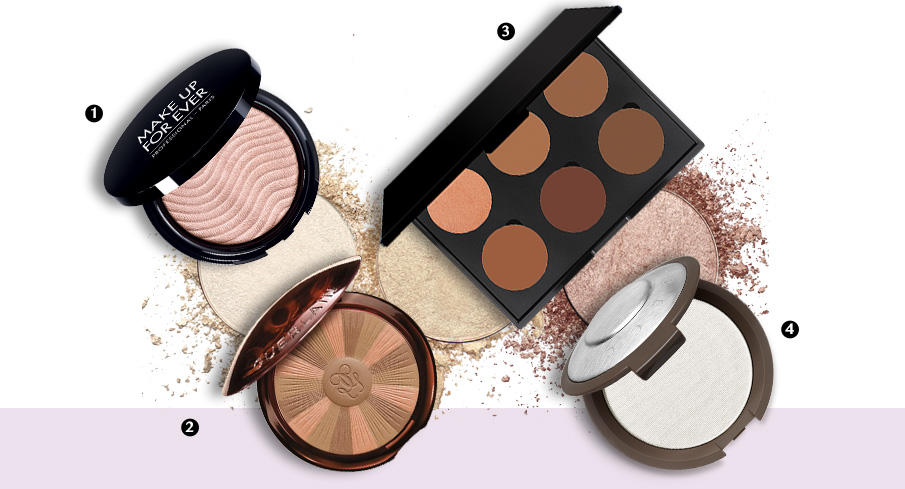 Make Up For Ever Pro Light Fusion Undetectable Luminizer :
For a talc-free option that leaves no trace of its presence except when it catches the light at just the right angle, try this one. With its gel-powder texture, it will feel like you have nothing on.

Guerlain Terracotta Light The Sun Kissed Healthy Glow Powder :
This new bronzer not only comes in universally flattering shades, it also offers skincare benefits with a powerful cocktail of vitamins and antioxidants. Plus, it smells so luxurious, you'll want to bring it everywhere.

Youngblood Contour Palette For All Skin Tones :
With 3 highlighter shades and 3 contouring shades, this is hands down the do-it-all palette. Shades are matte and can double as eyeshadow for a pulled-together, all-day look.

Becca Shimmering Skin Perfector Pressed Powder :
Make your skin bling. These shimmery babies are super hard to keep in stock because they're some of the most beloved highlighters of all time. Shades like Opal and Champagne Pop will make your skin look lit.