Take care of your hair and the environment! By using sustainable hair care product from B Corp brands
Show Menu
Take care of your hair and the environment! By using sustainable hair care product from B Corp brands
Many brand love to claim themselves as sustainable, and there are multiple credible scheme, one of them is B Corp.
Davines believe through sustainable beauty, people can take care of themselves and the environment at the same time. So they create professional, high quality sustainable products for stylist.
At Davinee, every product go after the same instinct for aesthetic and use the revolutionary technology, to create product with focus and most natural ingredients
A single shampoo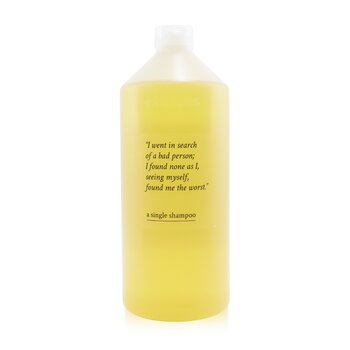 Davines A single shampoo
/1000ml
The "A Single Shampoo" is the result of Davines' best effort, combining a professional high-quality formula with the highest sustainability. Through SLCA (Sustainable Life Cycle Assessment), all potential impacts on natural resources, the environment and society are analysed throughout a product's entire life cycle, from raw materials, to production, to use. Create 100% carbon neutral products. Simple & Persistent Shampoo suitable for all hair types to be used daily, it ensures gentle cleansing while moisturizing and boosting elasticity.
Formulated with 100% traceable ingredients and being 98.2% biodegradable. The special surfactants in it are partly derived from Quercetano olive oil. This vegetable oil-derived ingredient is rich in monounsaturated fatty acids, which have properties similar to the sebum substances naturally produced in hair, resulting in a delicate and at the same time effective cleansing.
OI Collection
Whether it's your daily care or styling needs, our best-selling and award-winning OI Oriental Beauty collection has it all. The brand's best-selling line, formulated with Rhododendron Oil, provides exceptional shine and softness to all hair types, while protecting the hair from the effects of aging and environmental damage.
OI Oriental Beauty series is derived from the ancient oriental concept; through the balance of opposites to achieve harmony. The OI Oriental Beauty Collection balances sensory experience, multiple hair benefits and wash effectiveness for an instant premium wash experience from the first use. Dedicated to bringing absolute beauty to all hair and skin types.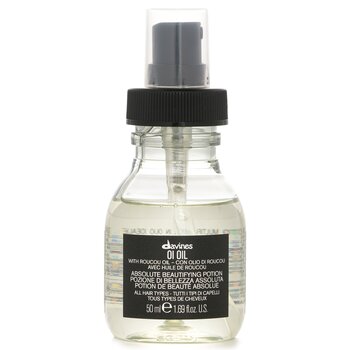 Davines OI Oil Absolute Beautifying Potion (For All Hair Types)
/50ml
Multi-Purpose Conditioner: Adds shine and softness to hair while making it manageable and tangle-free, addressing frizz. The effect is more pronounced on dry or rough hair. And after using the hair oil, it can protect the hair structure without becoming too heavy. Hair is also resistant to heat and environmental damage during styling, and continues to be scented.
Heart of Glass Collection
The collection takes its name from a famous '80s song sung by an iconic blonde singer, while metaphorically echoing the contrasting, irresistible typical blonde, a unique hair color that's also vibrant and happiness synonymous with. Light-colored hair requires special care to maintain its natural charm and beauty.
The Heart of Glass Collection contains four products that give you a complete hair wash. These include: Shampoo, Conditioner, Repair Cream and No-Rinse, Shine-Boosting Thermal Protection Primer.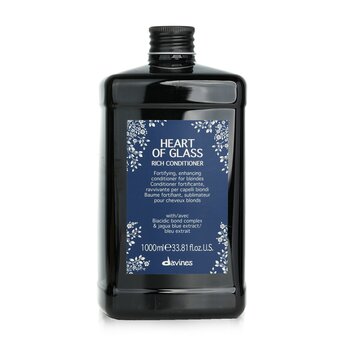 Davines Heart Of Glass Rich Conditioner
/40ml
For light tones and blonds, the Illuminating Hair Lotion brightens and enhances thermal protection, hydrating strands and boosting shine. Thanks to the fortified plant shield, it gives elasticity and vitality to the hair, helping to prolong the duration of the blow-dry style.
The formula contains 96.8% ingredients of natural origin and 98.5% is biodegradable. Baobab Seed Extract and Biacidic bond complex brighten hair color while providing a host of nutrients. Leaves hair smooth and easy to comb.
Alchemic collection
The Alchemic Color Complement Shampoo and Conditioner is a set of pure pigmented shampoos and conditioners to enhance and brighten natural and post-color hair color. The non-permanent colors in the product allow you to experiment with different hair colors without worrying about long-term issues like pigment residue. Different shades can be mixed and used according to your creativity, or used separately to maintain and enhance the effect of hair color.
Each family in the Alchemic system covers a different range of hair colors. To maintain the cool tone of your hair, you can use the Alchemic Silver family to achieve to remove the yellowish colour, while the dark brown hair can use the Alchemic Cocoa family for a rich, never dull shade, and Alchemic Copper Enhances cool red tones and energizes hair.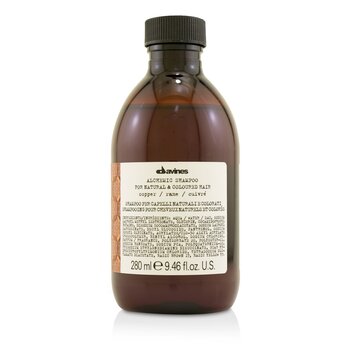 Davines Alchemic Shampoo - Copper (For Natural & Coloured Hair)
/280ml
Complementary light shampoo for orange-red toned strands. A natural, biodegradable formula infused with high concentrations of pure pigments, the Bronzer Shampoo effectively enhances the natural or orange-red hue of hair and enhances its brightness and shine. Hair color is enhanced and protected after dyeing, it also enhances natural hair color and maintains the luster and color. Keeps hair moisturized and smooth at the same time. Free of sulfates, parabens and silicones.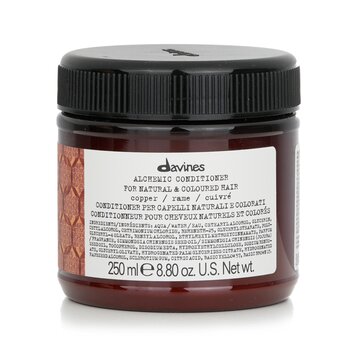 Davines Alchemic Shampoo - Copper (For Natural & Coloured Hair)
/250ml
Complementary light hair mask for orange-red toned strands. Bronze Toning Light Hair Mask effectively enhances the natural or orange-red hue of hair and enhances its brightness and shine. Hair is moisturised and colour protected and strengthened. Formulated with natural active ingredients, blended with hydrolyzed milk proteins, it provides intense hair care. Adds silky shine to hair for brighter, healthier looking hair with vibrant color.