[Haircare pro tips]Get your hair ready for 2022 F/W styling trend with hair mask
Show Menu
We put our hair through a lot of stress, whether it's from heat styling, new hairstyles or exposure to the elements. Causing serious hair damage. Hair treatment masks can help increase hair strength and make your hair feel healthy-all in the comfort of your own home.
And 2023 A/W is a season for hair styling, time to have fun with different looks. But this can also be stressful to your hair. Provide enough nutrition and care for them. So you can enjoy the trend, while maintaining healthy and smooth hair.
What is hair mask?
In short, it is something like your face mask, but for your hair.
Hair masks may also be referred to as deep conditioning treatments or intensive hair conditioners. These treatments are formulated with special oils (like almond, Abyssinian, argan, rose, etc), kinds butter (like shea and cocoa), extracts (made from plants), and other nourishing ingredients. Apart from hydrating, it can also help maintain color in colored hair.
How to use a hair mask? And how often should I use a hair mask?
Hair masks are easy to work into your hair care routine.If you're obsessed with healthy, moisturized locks, you're probably tempted to use a hair mask every day. But this beauty staple works best when used once or twice a week. But if your hair feels or looks drier or more damaged than usual, increase it to three times a week.
First, shampoo your hair and rinse. Shampoo again and rinse again. It's best to shampoo hair twice. First to remove debris and, second, to cleanse properly but remember not to use too much product. Be sure to rinse your hair well.
Next, condition as usual. You only need to leave your conditioner on about two minutes. Then rinse.
Apply your hair mask and wait three to five minutes for it to start working. You can leave your mask on as long as fifteen to twenty minutes if you want extra benefits or have really dry hair. Then thoroughly rinse them off to prevent hygral fatigue.
\
Benefits of hair mask
Hair masks can repair dryness and stop frizz. Plus, they can prevent further damage.These hydrating hair masks spend more time sinking into and nurturing hair than your average shampoo or conditioner, giving dramatic benefits in a single use.
Hair masks can also provide a healthier scalp, and protection against environmental and product damage.
The best hair masks tend to be packed with hydrating and restorative ingredients. And they can target your specific hair type and concerns, too. For instance, the best masks for dry hair are usually formulated with butters and oils such as shea, coconut oil, argan oil and avocado oil which can help replenish hair and add shine. You can similarly find botanical oils, including avocado oil, in the best hair masks for curly hair.
Other naturally healing ingredients, such as honey and propolis, are essential to get in the best hair masks for damaged hair. By using hair masks with these natural ingredients, you can bring out the best in your hair.
Many hair masks tend to smell good. So if you're feeling stressed or frazzled, use a hair mask at home as a form of self-care. Slather on a hydrating hair mask, take a few deep breaths and enjoy the experience.
Can I leave the hair mask on for too long?
If you apply your hair mask to damp hair-which is when the hair shaft is more porous, meaning it will absorb more of whatever you apply to it-you can have something called hygral fatigue. That means the hair has stretched and contracted with the addition of moisture, to the point that it becomes weak and prone to breakage.
Leaving a hair mask on too long or even overnight, particularly on damp hair, can deliver too much moisture, which is what contributes to this. So make sure you don't sleep in a hair mask that isn't designed to be slept in.
Strawberry net provides you with multiple type of hair mask for different needs, and we have some highlighted products for you to start with.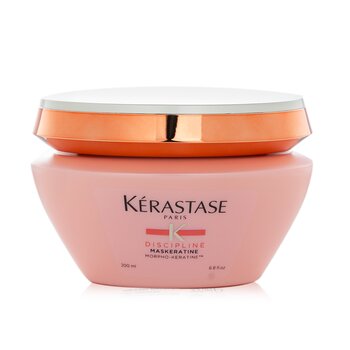 Kerastase Discipline Maskeratine Smooth-in-Motion Masque
$94.00 /200ml
As one hot item from our best selling brand, Kerastase. This hair mask is great for uncurly, rebellious Hair. A smoothing mask for unruly, unmanageable hair. Developed with Morpho-Keratine Technology that tames frizz & protects against humidity, and contain lipid agents to smooth hair & provide frizz protection. Loaded with optimized starch for maximum anti-frizz action.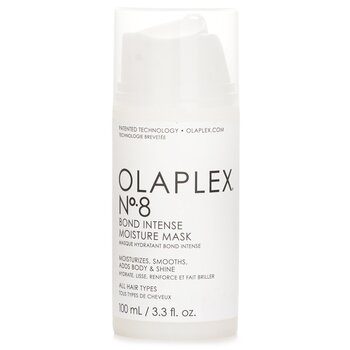 Olaplex No. 8 Bond Intense Moisture Mask
$47.50 /100ml
As a trending product, it uses patented OLAPLEX Bond Building technology to noticeably repair extremely damaged hair. This highly concentrated reparative hair mask provides intense moisture while adding shine & body. Unveils softer, smoother, bouncier & healthier hair.
Make it better to be free of nuts, gluten, parabens, phthalate, sulfate, DEA, aldehydes & formaldehyde. This is also a cruelty-free product.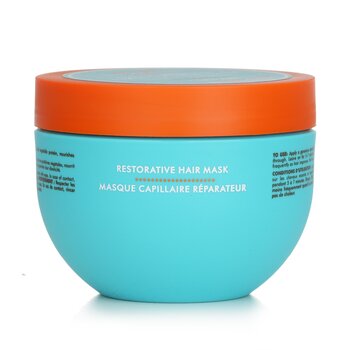 Moroccanoil Restorative Hair Mask
/250ml
As another trending product, this is a rich cream to energize dull, thin hair. It contains Argan oil to treat & nourish hair, and offers therapeutic remedy that penetrates deep into hair. Promoting well-being of hair & scalp, and leaving hair looking healthy & lush
Hope you find our pick useful. Please note the price in the article is a discounted price brought to you by Strawberrynet not the recommended retail price. More recommendations below.