Zobrazit menu

CLEANSERY

Dermalogica speciální čistící gel 500ml
Soothes without stripping, cleans without irritating, and softens without leaving residue. This do-it-all cleanser is still in first place, after all these years.
CO LIDÉ ŘÍKAJÍ:
A gentle yet effective cleanser that will leave your skin feeling fresh and free of the days makeup and pollutants in the air. A small amount goes a long way, giving great value for money. I've been using this product for over 5 years.
- říká Kate Dauncey

Clinique Liquid jemné obličejové mýdlo 200ml
A godsend for sensitive skin. This ultra-mild solution won't irritate or inflame, so that all you're left with is the feeling of clean, bouncy skin.
CO LIDÉ ŘÍKAJÍ:
This soap is so mild, yet strong enough to wash my face and get all of the day's grime off me. I have very sensitive skin, and have found other 'mild' soaps to be harsh and abrasive, but this is the complete opposite. Perfect for everyday use.
- říká Andi

Decleor Aroma Cleanse Essential čistící mléko 400ml
Gentle yet tough, this beautiful milky cleanser will remove even waterproof makeup while refreshing and softening skin for the next step in your routine.
CO LIDÉ ŘÍKAJÍ:
Excelent product which takes away my make up. I enjoy to use thies Decleor Aroma Cleanse Essential Cleansing Milk. Good softy smel. Do not irritate my shin. Makes my skin feel clean and softy. Very good product vs good price.
- říká Tuula Karppinen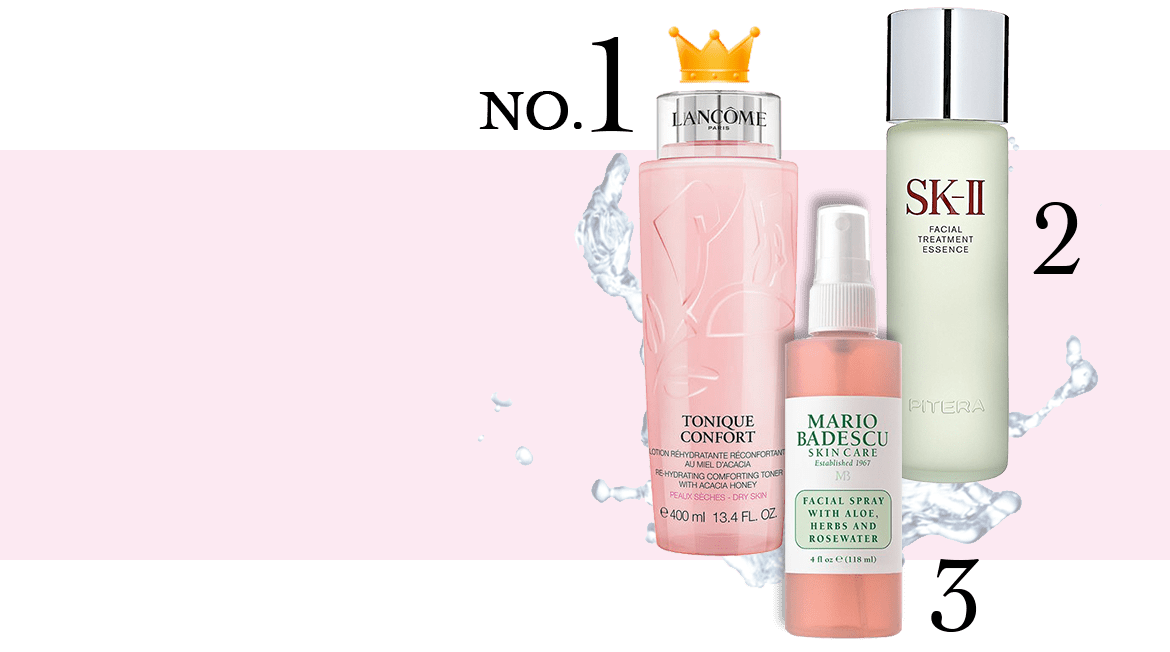 TONERY

Lancome Confort Tonik 400ml
Containing honey and seed extract, this formula re-hydrates skin for an immediate boost of silky smoothness and softness.
CO LIDÉ ŘÍKAJÍ:
Beautiful product which I have been using for 15 years and will continue to do so.
- říká Rosina Welch

SK II Facial pečující esence 230ml ( Kč4031.50)
With anti-aging Pitera as the star ingredient, this essence replenishes moisture while adding revitalizing enzymes for a more youthful complexion.
CO LIDÉ ŘÍKAJÍ:
I cannot find enough adjectives to do justice to this. Fantastic for all skin types, especially if you live / work in air-con / heating environments! Moisturises your skin and leaves it fantastically smooth and supple!!
- říká Charmaine Patricia Fernando

Mario Badescu obličejový sprej s Aloe, bylinkami & růžovou vodou - pro všechny typy pleti 118ml ( Kč265.00)
Containing rosewater and herbal extracts, this moisture-infused spray not only works perfectly as a toner, but can also be used to set makeup and re-hydrate dry hair.
CO LIDÉ ŘÍKAJÍ:
Love the scent, love the after effect, love that its paraben free, and cruelty free. So gentle, hydrating and refreshing! I got the smaller bottle to try out, but definitely getting the bigger bottle as well. Thanks for stocking Mario Badescu!
- říká Yuko Kosuge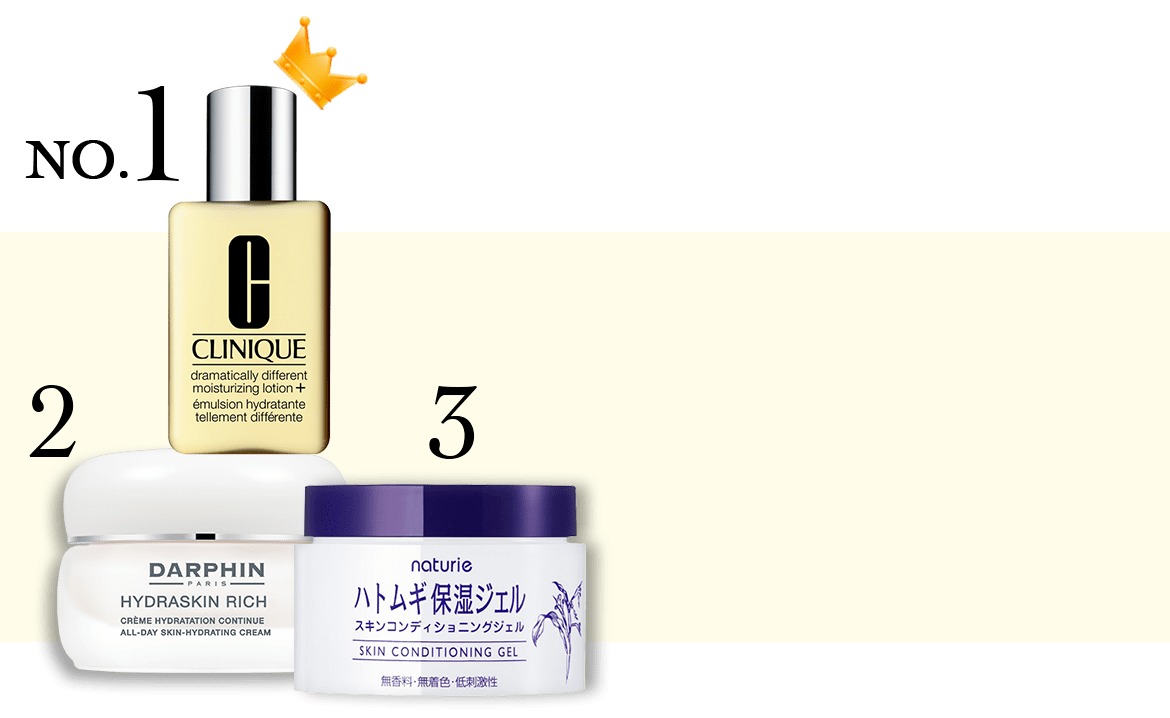 HYDRATAČNÍ KRÉM

Clinique Dramatically Different hydratující mléko+ (velmi suchá až suchá kombinovaná pleť; s pumpičkou) 125ml ( Kč875.50)
The undisputed king of all moisturizers. Light but long-lasting, rich but not sticky, this is the saviour that your dry skin has been waiting for.
CO LIDÉ ŘÍKAJÍ:
I've used this product for 25 years, it's awesome and the only moisturiser my skin doesn't break out with.
- říká Brenda Costeloe

Darphin Hydraskin Light 50ml
Radiance in a jar. This light-textured moisturizer will absorb instantly into skin, leaving it soft, plump, and less prone to oil.
CO LIDÉ ŘÍKAJÍ:
It absorbs really quickly. so sticky residue. and keeps my skin hydrated. Also the smell is so addicting!!!
- říká Emilie Tsao

I-Mju Hatomugi Skin vyživující Gel 180g ( Kč219.00)
This magical Japanese gel is a firm favourite with fans for two reasons: it won't break the bank (ever!), and it does what it says - make skin as silky and bouncy as a baby's.
CO LIDÉ ŘÍKAJÍ:
So smooth and light. The best choice with affordable price.
- říká Michael Pham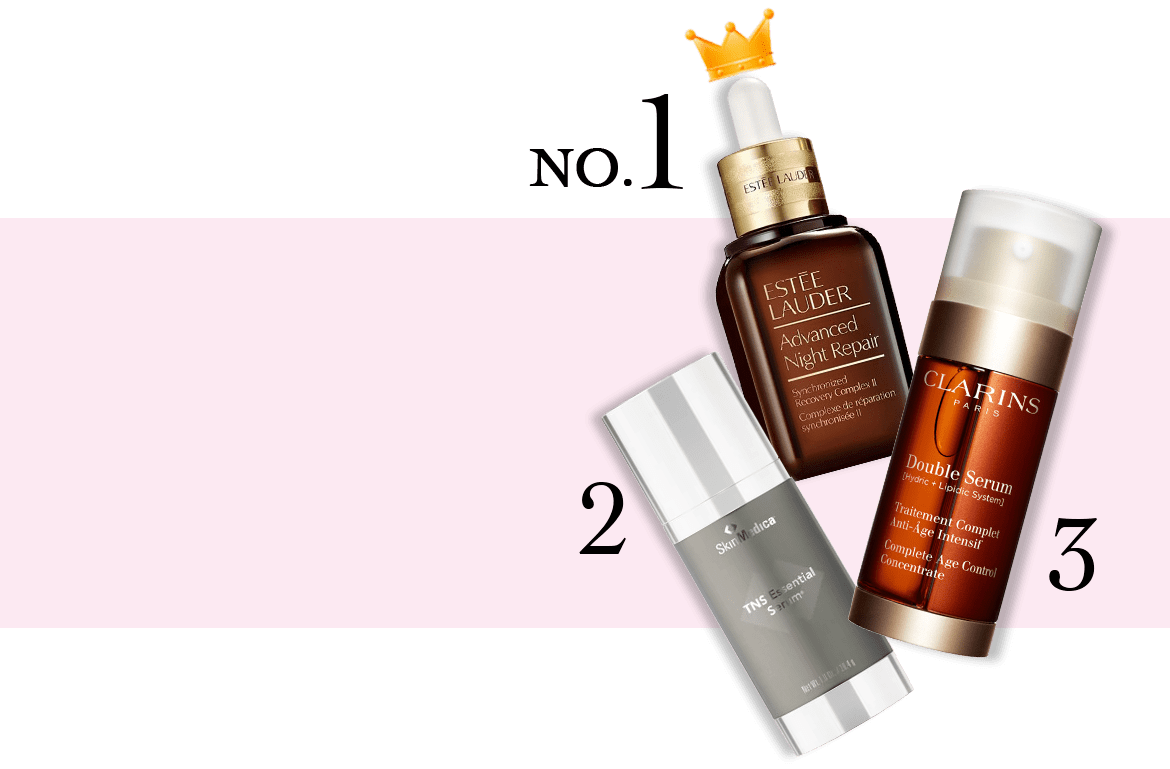 SÉRA

Estee Lauder Advanced Night Repair Synchronized obnovující komplex II 75ml ( Kč3041.00)
The cutting-edge research and top-notch ingredients that went into this formula make it one of the best all-round serums available today - and the reviewers agree!
CO LIDÉ ŘÍKAJÍ:
After using this for 3 days, my skin showed remarkable improvement. I will be buying this product for a long time
- říká Meg James

Skin Medica TNS esenciální sérum 28.4g ( Kč5022.00)
Renew cells from the inside out with this deeply-penetrating formula. The result is luminously youthful skin that looks utterly natural.
CO LIDÉ ŘÍKAJÍ:
This is an amazing product, has made quite a difference to my skin, following a strict regime since I was 20 years old, this has been a real find
- říká Teri Byrne

Clarins Double Serum Complete Age Control koncentrát 50ml
Formulated with twenty plenty extracts to enhance skin's appearance, this gentle serum adds moisture, firmness and definition, making it perfect for all seasons and even the driest weather.
CO LIDÉ ŘÍKAJÍ:
This is my 3rd bottle... it has a nice and relaxing scent and great to use in winter and summer time too because skin gets dehydrated due to air conditioning.
- říká Michelle Wong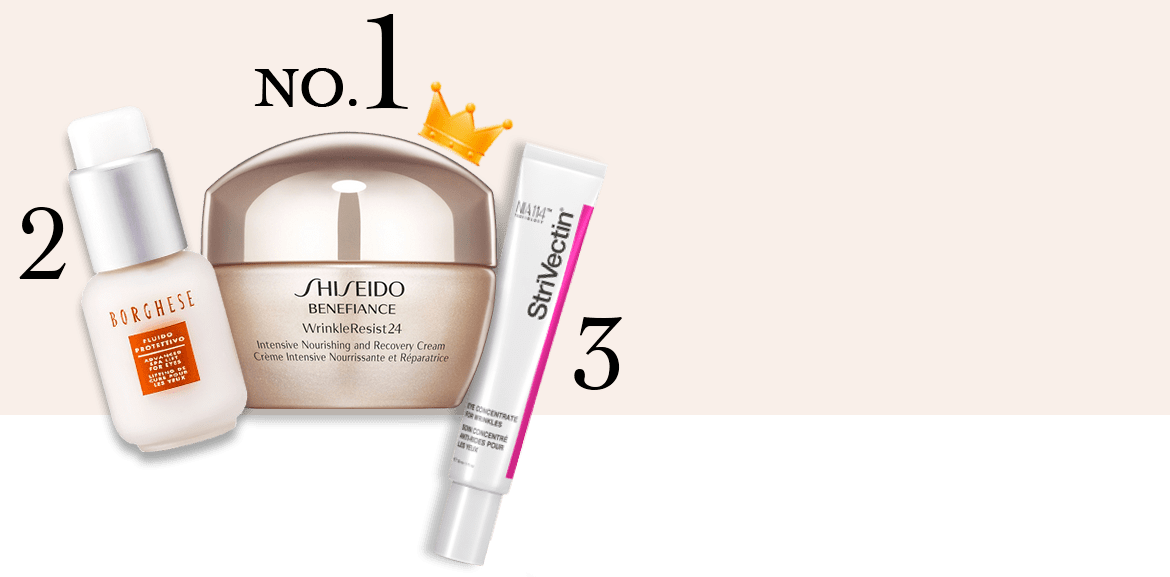 OČNÍ PÉČE

Shiseido Benefiance WrinkleResist24 Intensive krém na oční kontury
Thick, rich, and chock full of essential nutrients, this eye cream combats fine lines and puffiness on your behalf all day and night once you apply it.
CO LIDÉ ŘÍKAJÍ:
I love this eye cream, it's super moisturising without being heavy.
- říká Sally Dempster

Borghese Fluido Protettivo Advanced Spa pozvednutí očí
This weightless balm acts as a spa in a bottle - filling in fine lines and plumping out wrinkles for the delicate eye area. Its fresh, tingling sensation will wake you up immediately.
CO LIDÉ ŘÍKAJÍ:
This is my second time buying this product. It gives fantastic results in such a short time. It's gentle on the eyes, doesn't sting and absorbs in well. Perfect under makeup too. Fantastic value !!
- říká Louise Buckley

Strivectin StriVectin Intensive oční koncentrát na vrásky ( Kč645.50)
Patented, light-infusing technology is the secret behind this skincare marvel. Use it on deep-set wrinkles and dark circles to instantly unveil a brighter, wide-awake eye area.
CO LIDÉ ŘÍKAJÍ:
I have terrible smile lines and definitely looked less like a haggard sea witch after using this for a few weeks. Was genuinely surprised!
- říká Aisling Wood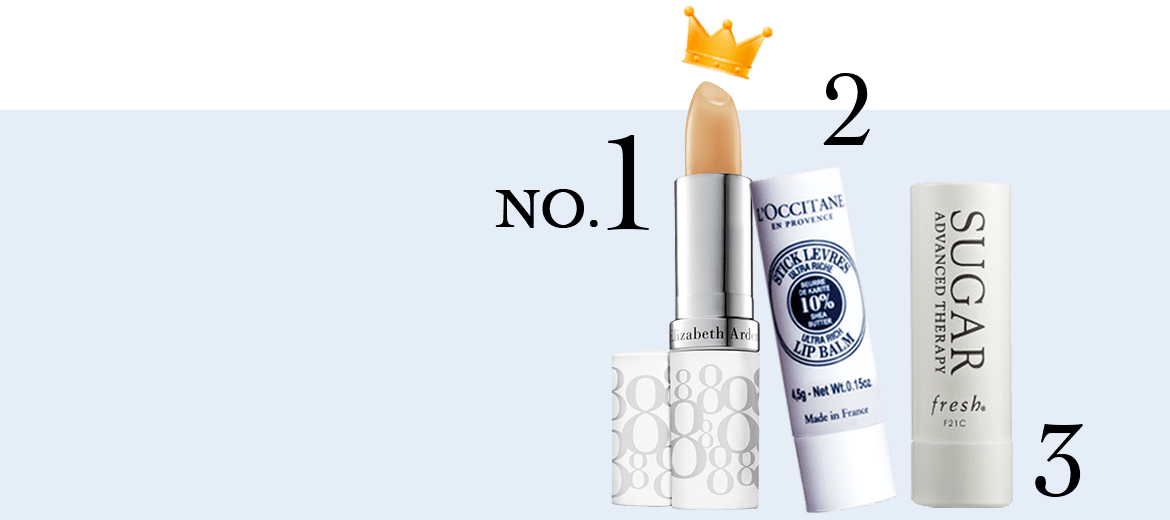 PÉČE O RTY

Elizabeth Arden osmihodinová péče o rty
The holy grail of lip balms, this product enjoys legions of fans for its healing properties. It is moisturizing without being greasy and soothing without being heavy. We guarantee you'll love it.
CO LIDÉ ŘÍKAJÍ:
Super moisturizing and quick absorbing without leaving a greasy feel on your lips. I've tried drugstore brands to high ended ones, this is by far, hands down, THE BEST for me. It comes with SPF so I only use this in the daytime before applying my lip products.
-říká Jane Cheng

L'Occitane Shea Butter balzám na rty v tužce ( Kč346.00)
Ultra-rich emollient for ultra-chapped lips. This regenerating balm will restore your lips to their softest, shiniest state.
CO LIDÉ ŘÍKAJÍ:
Lovely texture with enough gloss. I initially received this as a sample and decided to upgrade this to the full size, lasts a long time.
- říká Michele Kwong

FRESH Sugar Lip Treatment pokročilá terapie ( Kč760.50)
Infused with hyaluronic acid and anti-oxidants, this refreshing balm is perfect as a base under lipstick or can be worn alone for some quick plumping action.
CO LIDÉ ŘÍKAJÍ:
Best, most moisturising lip balm I've ever used.
- říká Lucienne Di Tempora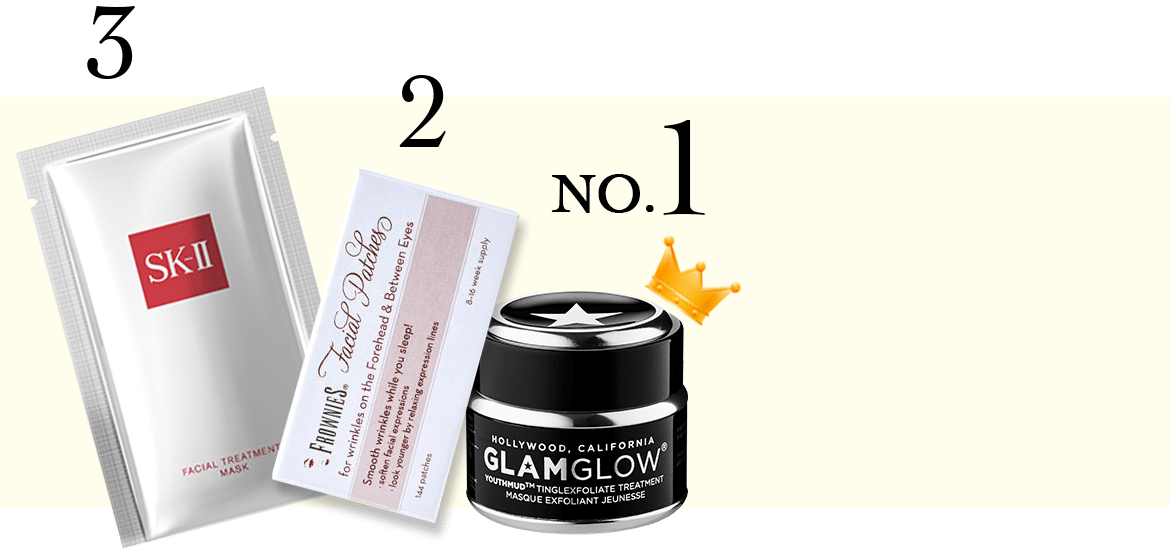 MASKY

Glamglow YouthMud peelingová bahenní maska ( Kč1359.50)
This famous mask can do everything a facial does, in less than 10 minutes. And voila, check out your glowing, instantly revitalized skin!
CO LIDÉ ŘÍKAJÍ:
I have used so many products to rid my acne and usually they make it worse or takes a long time for the products to work or not at all. This product is my holy grail. Although it is steep in price i feel the amount of money i have spent on trying all these products trying to rid my acne, this product is well worth the purchase. I will get this from now on :)
- říká Kelliann Talbot

Frownies obličejové pásky (na čelo a mezi oči)
Invented in the 90's, these patches are the next best thing to a facelift. Use it on forehead lines to make them disappear literally overnight!
CO LIDÉ ŘÍKAJÍ:
The excellent invention of cosmetologists for people with an active facial expression
- říká Elena Shulga

SK II obličejová pečující maska
You can never have too much PiteraTM, and SK II's bestselling face mask is the best delivery system for this anti-aging yeast-based ingredient that will reverse the signs of time.
CO LIDÉ ŘÍKAJÍ:
Honestly, these are literally a miracle, because they work magic. Generous amount of serum in each means you can use one mask (or the excess serum) over a few days. Better than any facial - if you use the dr Dennis gross peel wipes before hand, you'll be complimented all day long
- říká Annie Clark