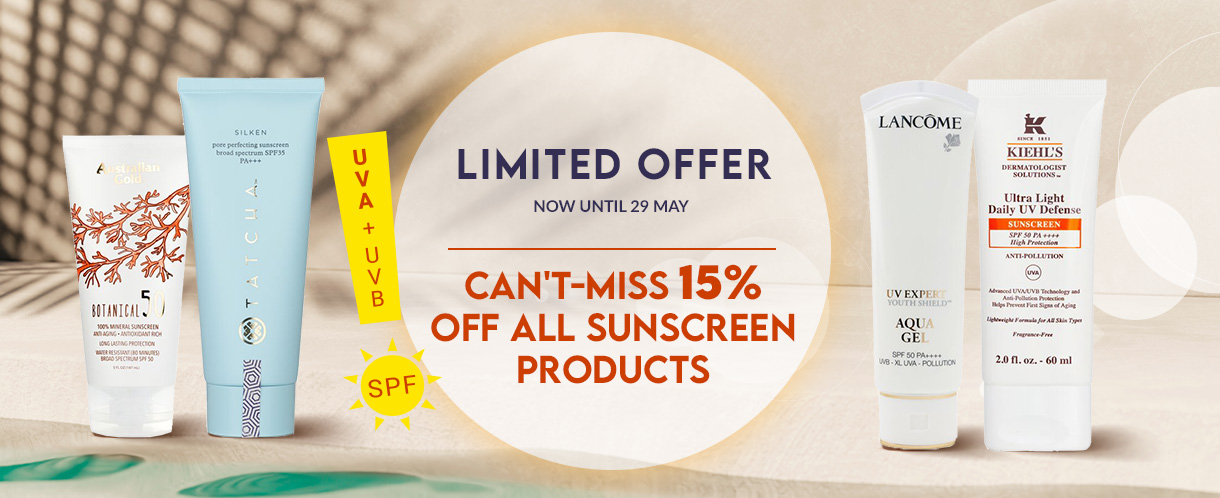 Limited offer! Enjoy 15% off all sunscreen products!
Ultraviolet radiation is the primary reason for aging. To keep your skin youthful, you need to choose a suitable sunscreen product!
People with different skin types need to choose different products, especially for sunscreen products, which come in physical, chemical, and hybrid types, each with different effects. Here are a few recommended products that are suitable for different skin types, whether you have extremely dry skin, oily skin, sensitive skin, or combination skin, there is always a product that suits you.
More sunscreens
SPF stands for Sun Protection Factor, which indicates the effectiveness of blocking UVB rays. UVB can cause skin burns, and the higher the SPF value of the product, the longer the sun protection time. However, if the SPF value is too high, it may clog pores and increase the risk of allergies. The following two products both have an SPF of 50, providing up to 98% sun protection to prevent sunburn and redness.
KIEHL'S
Ultra Light Daily UV Defense SPF 50
This lotion has a light and transparent texture, without feeling oily or clogging pores. It contains antioxidant ingredients like Vitamin E and glycerin moisturizing essence, presenting a matte finish. Dermatologist tested, it is fragrance-free, non-comedogenic, and can be used as a primer.
SHOP NOW
CLARINS
Dry Touch Sun Care Cream For Face SPF 50
It has a waterproof and sweat-resistant formula, with a matte and refreshing texture, easy to apply, enriched with plant extracts and antioxidants, providing multiple protections for the skin. It also helps the skin resist free radical damage and create a charming bronze complexion. Suitable for extremely sensitive skin.
SHOP NOW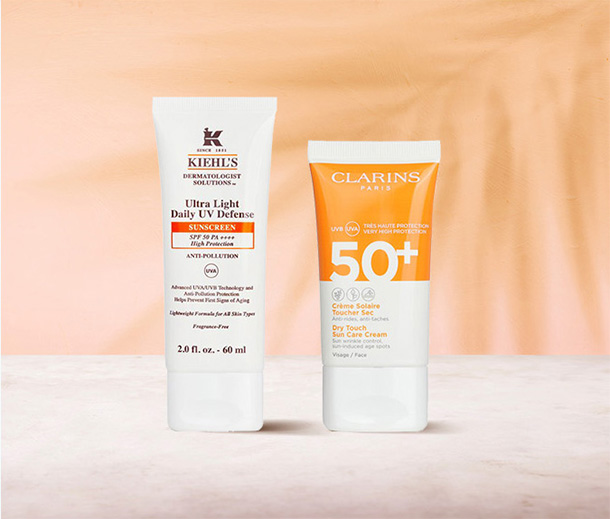 More sunscreens
UVA in UV radiation can cause skin darkening and aging, which is a key factor that women should pay attention to when choosing sunscreen. The PA value indicates the UVA protection efficacy, with the "+" sign showing the level of efficacy. The more "+" signs there are, the longer the sun protection duration and the less likely the skin will get tanned. The following two products both have the strongest PA value, helping to achieve fair and milk-like skin.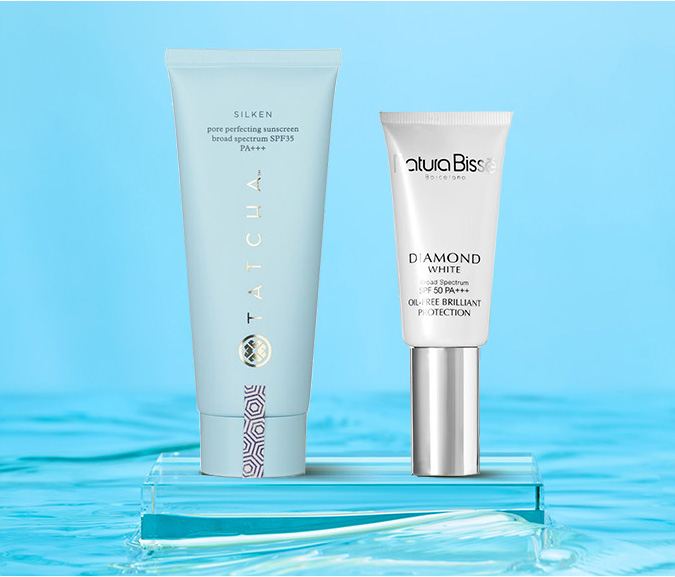 TATCHA
Silken Pore Perfecting Sunscreen Broad Spectrum SPF 35 PA+++
This product has a light texture, creating a matte, poreless skin look without appearing too white. It contains natural ingredients that are effective in anti-aging, pore-tightening, and soothing the skin. Dermatologist-tested, it does not cause acne and has a low-irritation formula. It does not contain various chemical additives such as parabens, synthetic fragrances, mineral oil, sulfate surfactants, phthalates, etc.
SHOP NOW
NATURA BISSE
Diamond White Oil-Free Brilliant Protection SPF 50 PA+++
This product offers high-efficiency sun protection with a lightweight texture. It contains various skin-renewing ingredients, including tannic acid, along with active factors that prevent, repair, and lighten dark spots. It significantly brightens and whitens the complexion while providing hydration. It provides strong protection against UV rays, leaving the skin smoother and more radiant after use. Suitable for all skin types, it is free of oil and preservatives.
SHOP NOW
More sunscreens
If you're spending a lot of time outdoors, don't just apply sunscreen to exposed areas of your face and body. Be sure to apply it to small areas that are easily overlooked, such as your scalp, lips, ears, back of the neck, and backs of your hands.
ELIZABETH ARDEN
Eight Hour Cream Nourishing Lip Balm SPF 20
This is a multi-effect lip cream. It contains multiple moisturizing ingredients, including lanolin, shea butter, and castor oil, to moisturize the lips. It also is formulated with petroleum jelly to effectively protect the lip skin and prevent moisture loss. The 8 beneficial vitamins, minerals, and moisturizing ingredients help to deeply repair and moisturize the lips. It has good sun protection function and reduces sun damage. After use, the lips are soft and healthy. The size is perfect to be easily carried.
SHOP NOW
ELTAMD
UV Lip Balm Water-Resistant SPF 36
Moisturizing lip protection formula with water resistance up to 80 minutes. It is mixed with 7% transparent zinc oxide, providing UVA/UVB protection, soothing dry, cracked, and sunburned lips, with a gentle texture that does not contain parabens or fragrances, and will not cause acne. Suitable for indoor and outdoor use and all skin types.
SHOP NOW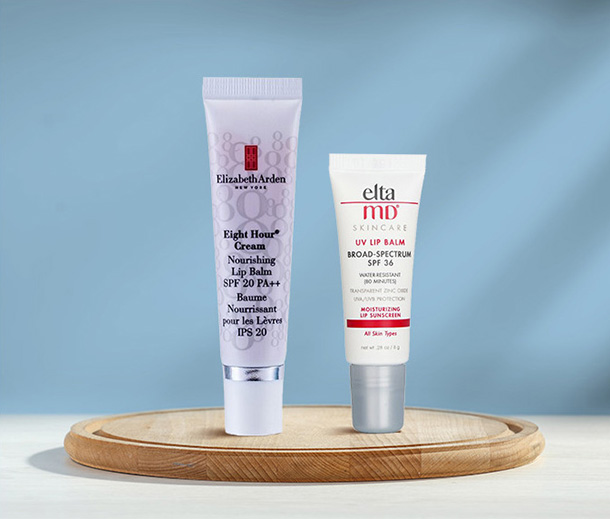 More sunscreen lip balms
Q. Which is better, physical sunscreen or chemical sunscreen?
A. Physical sunscreen products generally have a thicker texture and are more difficult to apply evenly. They can leave a white cast after use, and work by reflecting, scattering, and refracting UV rays to prevent direct exposure to the skin. They are generally considered gentle and suitable for sensitive skin. The principle of chemical sunscreens is to absorb UV rays and then convert them into heat energy and release them, thereby reducing the damage of UV rays to the skin. The texture is light and refreshing after use, but it is more irritating and not recommended for sensitive skin. Therefore, there isn't really a "better" or "worse" sunscreen concerning different types of sunscreen products. Everyone can choose according to their skin types and needs.
Q. How to apply sunscreen correctly?
A. To achieve the best sun protection, it is recommended to re-apply sunscreen every 2 to 3 hours. Before re-applying, wipe off your sweat and oil for better results. If you are outdoors in hot weather or doing activities in water, it is recommended to re-apply every hour.
Check out all discounted sunscreens
Terms & Conditions
Ends 29 May 2023, 12:00nn HKT.
Each account has a purchase quantity limit of three per item.
Items available while stocks last.
Only applied to selected products of each brands.
Cannot be used in conjunction with Loyalty Discount or any other promotions.
Offer is not applicable to China & Turkey orders.
Strawberrynet reserves the right to amend these conditions at its own discretion without prior notice.