Show Menu

4 Must-Have Brands
Clarins | Elizabeth Arden | ADDICTION | Hourglass
With so many brands on the market, it can be difficult to find the right one for you. Discover the secret hero products of these 4 popular brands today, and find out why they're so beloved by fans everywhere!
CLARINS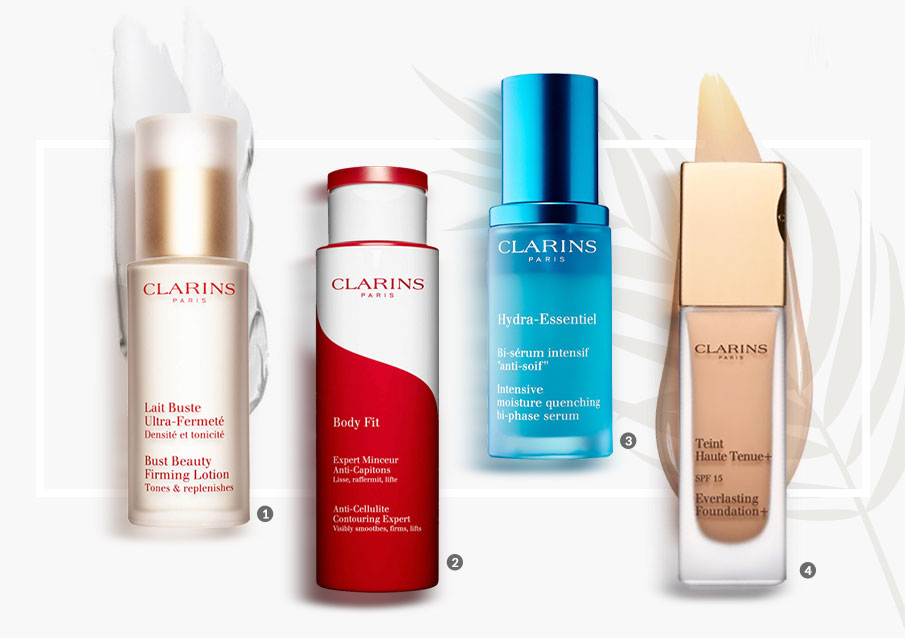 This French brand was founded in 1954 and is known for their extraordinary skincare range that targets the body. Using botanical extracts, oils, and other natural ingredients, the products deliver safe and gentle care for expecting moms and women with sensitive skin.
1. Bust Beauty Firming Lotion 50ml
It's tempting to ignore the décolleté when moisturizing, but this cream reminds us that the bust deserves some TLC too. Formulated with plant extracts to increase skin elasticity, this cream will give you the toning, tightening action that you've been craving.
2. Body Fit Anti-Cellulite Contouring Expert 200ml
Blast cellulite with this targeting cream-gel product. Water mint and quince leaf helps reduce the look of unevenness while slimming and toning areas for a more uniform look. Your figure will look more lifted and sculpted with this deep treatment.
3. Hydra-Essential Intensive Moisture Quenching Bi-Phase Serum 30ml
This super moisturizing serum sinks deep into skin for round-the-clock hydration, and it's got an ace up its sleeve. The hero ingredient? Organic kalanchoe extract activates skin's production of hyaluronic acid - the natural skin-plumping agent that creates the look of youth and fullness.
4. Everlasting Foundation+ SPF 15 30ml
Weightless and gentle, this dissolves upon application to create a second-skin look that is both comfortable and long-wearing. Your next selfies will look flawless, and you won't even have to worry about sun protection, because this has got you covered with SPF 15.
ELIZABETH ARDEN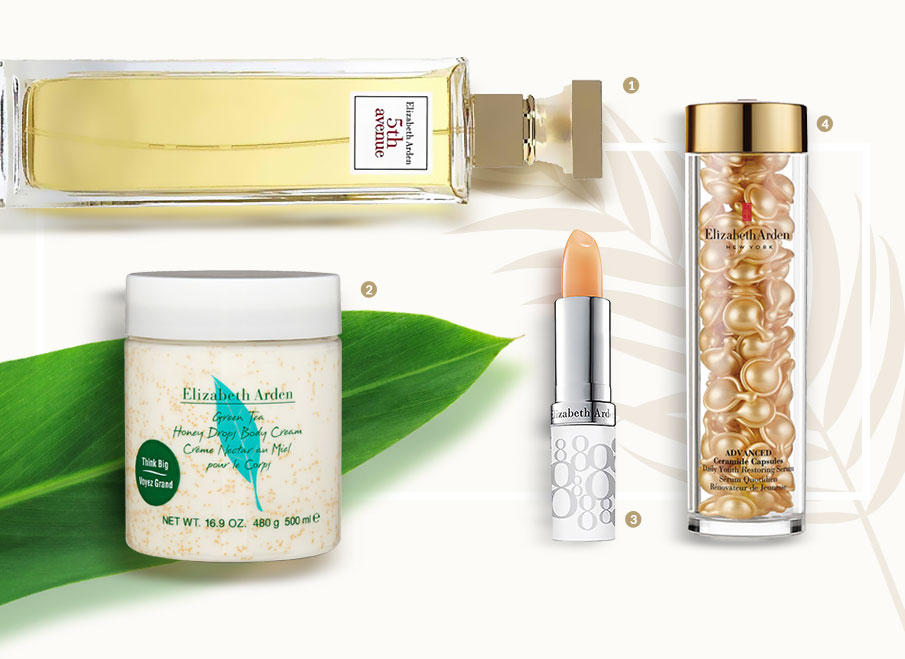 Known around the world for products that make women feel beautiful, this brand has been on the market for 107 years. Today, it offers skincare, makeup, fragrances, and body care in its huge portfolio of products, with an emphasis on both natural ingredients and scientific innovation.
First launched in 1996, this fragrance was an instant classic that conjured up cheerful yellow sunflowers and a soft spring breeze. Composed of a lime blossom, lilac, jasmine, and peach over a bed of musk and amber, this fragrance is the signature scent of choice for many women.
2. Green Tea Honey Drops Body Cream 500ml
Rich with emollients, with a quick-drying texture to make skin feel silky instead of sticky, this cream is perfect for all-over application in the dry winter months. Fans love the light scent, which is sweet and refreshing.
Long-lasting protection never felt this good. This long-lasting lip balm is a perennial bestseller that is hard to keep in stock. Fans love how it banishes dry, chapped lips and leaves skin feeling smooth and soft.
4. Ceramide Capsules Daily Youth Restoring Serum - ADVANCED 90 caps
Give your skin a daily dose of ceramides with these concentrated capsules! Ceramides are essential lipids that make skin look plump and bouncy, as well as protect it against pollution and irritants. Plus, it exists naturally in skin already, so it doesn't get more natural than this.
ADDICTION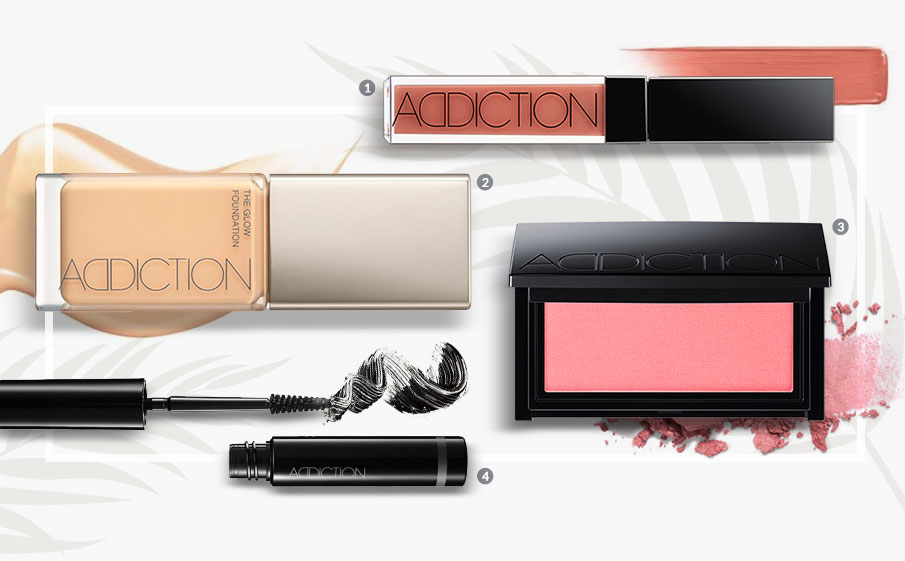 Founded by the Japanese makeup artist AYAKO, this brand was created for women seeking to empower themselves while discovering their own style. Bold colours and textures are front and center, with high-quality finishes paired with understated packaging.
With its lightweight texture and skin-flattering shades, this gloss is our pick for a 10-second makeover. Lips appear plumper and juicier, without any stickiness. Bonus: it's fragrance-free for sensitive skin!
This brightening foundation is loaded with moisturizing ingredients like rosa centifolia flower extract and rosehip and olive oils to make skin glow, inside and out. With sheer, buildable coverage and SPF 20, it's the perfect choice for a chilled out weekend under the sun.
Go beyond rosy cheeks with these addictive blushes. The colors will pop on any skin tone, and the texture is so velvety that it will melt into skin instantly upon application. We love that the pigment is mild, so you can gradually build up to the intensity you want.
Say goodbye to thin, sparse eyebrows! This spooley brush adds colour, thickness, and density to existing brows, coating each hair with a uniform film so that they appear instantly fuller.
HOURGLASS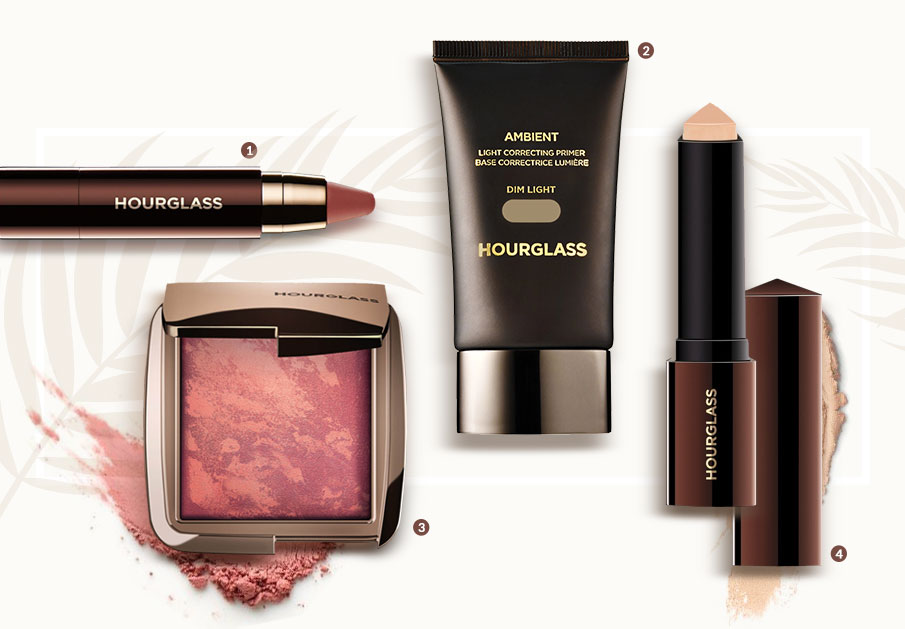 A luxury beauty brand that's totally cruelty-free and effortless to apply? Hourglass is what you're looking for. This brand is known for its state-of-the-art packaging and cutting-edge formulas, which deliver consistently gorgeous results. The secret, of course, is in their active, natural ingredients.
With its sleek retro packaging and gold accents, this swanky, chubby new lipstick is the latest, hottest thing to hit our handbags. The tapered precision tip allows for easy application, while the silky formula offers bold, vibrant colours. Best of all, it contains winning ingredients like shea butter and jojoba oil to nourish and protect.
2. Ambient Light Correcting Primer
This bestselling primer corrects, brightens, and blends into skin instantly to create the perfect canvas for your foundation. What's more, it's totally free of parabens, oil, gluten, nanoparticles, sulfates, and talc, which makes it safe for even the pickiest makeup lover.
3. Ambient Strobe Lighting Blush
Want unparalleled radiance? This gorgeous compact will make your cheekbones look LIT. The vivid colours are a WIN, and the sparkling highlighter that's mixed in will create a strobing effect with no extra effort!
4. Vanish Seamless Finish Foundation Stick
Loaded with extreme pigment, this 3-in-1 stick has the coverage of a concealer, the blendability of a liquid, and the lightness of a powder. The triangle shape is perfect for applying to every corner of your face. Plus, it's so easy to carry around that you'll definitely want it for your next vacay.
CLARINS
---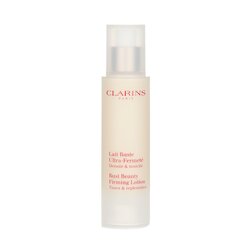 Clarins

Bust Beauty Firming Lotion 50ml/1.7oz
Price after HK 20% Discount*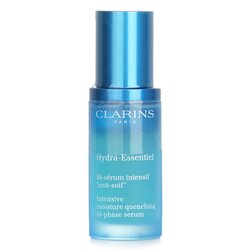 Clarins

Hydra-Essentiel Intensive Moisture Quenching Bi-Phase Serum 30ml/1oz
Price after HK 20% Discount*
ELIZABETH ARDEN
---
ADDICTION
---
HOURGLASS
---